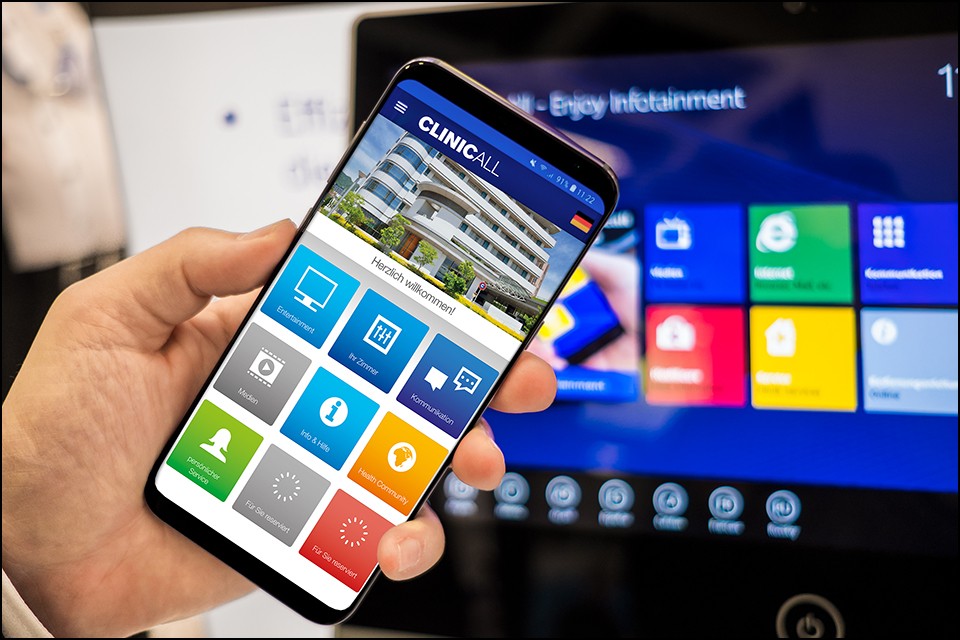 Picture: ClincAll GmbH -
ClinicAll App
ClinicAll, an app for hospitals and their patients, is intended to improve comfort and information supply – as well as optimise work and treatment processes.
With the Hospital & Patient App of the German ClinicAll Germany GmbH, patients and hospitals are to become independent of stationary bedside terminals and clipboards at the patient's bed for the first time. Patients should be able to access services and care during a stay in hospital directly on any mobile device via the app.
As a particular advantage of the ClinicAll app, the developer praises its integration into the overall system. Many other software providers have already developed specific programs/functions for hospitals – however, patients and hospital personnel have had to install a separate program for each individual function on their device up to now. The ClinicAll App is intended to remedy this situation by enabling these various functions to be combined in a single app via corresponding interfaces.
Patients in a clinic using the German system should be able to easily access TV, Internet and all information provided by the clinic with the ClinicAll app after the obligatory login. In addition to treatment appointments and, for example, calling up the current menu, it should also be possible to control room lighting and the bed via the app. A nurse should also be called into the room using the app.
Doctors and hospital staff should be able to inform about upcoming activities, appointments or rounds via push messages. The aim is to make all communication simpler and less complicated.
The ClinicAll app runs on iOS and Android devices. A central server makes it possible to set up an individual access for each individual patient. This will eliminate the need to set up a bedside terminal at each patient bed, thus considerably reducing the installation effort in hospitals.
However, for all the benefits such a system may offer, it also poses new risks.
Should such a system actually replace the analogue paper-based patient data management: What happens in the event of a power failure? What if a critical component (such as the wlan or login server) fails? What about (IoT) security? Are there really practical advantages if staff and patients always have to carry and operate a mobile device?
A permanently installed system, as a Bedside Terminal in connection with voice-controlled features based on Amazons Alexa, Google's Home, Microsoft's Cortana (and others) as a supplement to the "analog" clipboard at the bed, seems more sensible. In order to relieve staff and patients, it also seems necessary at first to connect hospitals and clinics to the Internet on a broadband basis in 2018.
---
Trending Now
You may also like