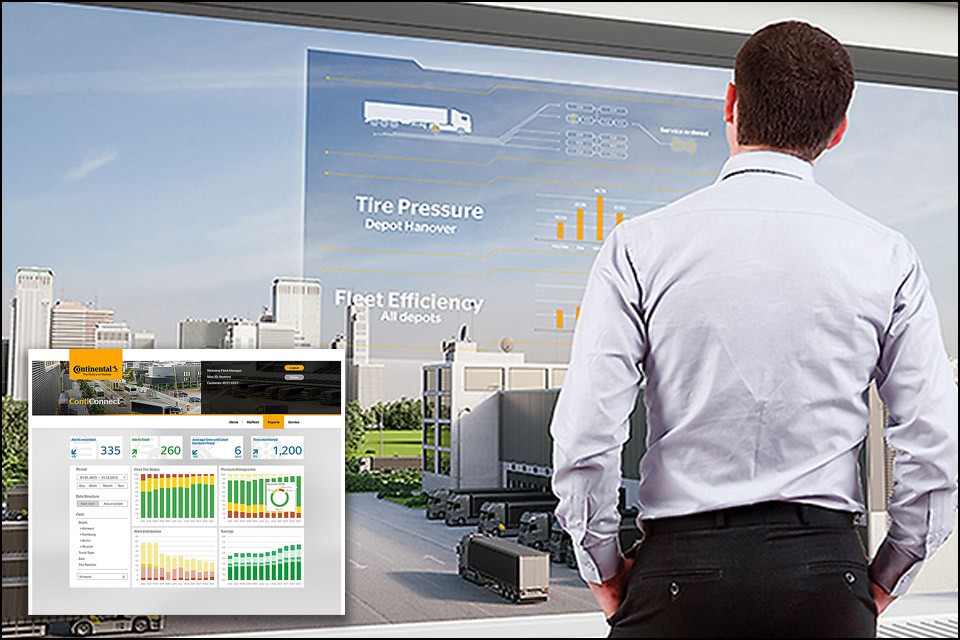 Picture: Continental/ab
ContiConnect
Continental, supplier to the automotive industry and tire manufacturer, wants to contribute to making traffic on the world's roads safer with the help of IoT (Internet of Things) and  its product "ContiConnect".
The new digital tire monitoring platform "ContiConnect" uses Vodafone's IoT-SIM technology to record tire pressure data, wear marks and minor defects on commercial vehicles and fleets every time trucks return to the fleet terminal and display them in a mobile, globally accessible web portal.
Identifying low or high temperature tyres is important to avoid tyre bursting. With this new system, every time a truck or bus returns to the terminal or passes through a service station, a current data record of the "actual condition" of the tyres on the vehicle is transmitted to the operator's system. Manual checks, which are often skipped, are therefore superfluous and fleet managers or maintenance managers can view vehicle data remotely.
Should a vehicle's tire values reach a critical level, ContiConnect reports this with an alarm and offers appropriate follow-up measures – such as tire changes, which the fleet manager can activate directly. With this improved transparency, tyres should achieve higher mileage and increased durability; greater fuel savings could also be achieved. This means increased uptime, reduced maintenance and overall improved mobility and efficiency for the entire fleet of a company.
Vodafone's IoT Director Stefano Gestaut said: "This is a great example of how IoT can make real world differences in so many unexpected places. This ensures that truck drivers experience fewer tire-related breakdowns and accidents – making the roads a safer place to be for every vehicle user.".
In addition, the service sends SMS and e-mail notifications if a tyre problem is detected – but there is currently no contact with a permanently installed service station or terminal.
"Fleets no longer have to rely on performing tire pressure checks on tens, hundreds, or even thousands of tires on their vehicles […]. With ContiConnect, they will know immediately upon returning to the fleet terminal whether any tires have low pressure. Leveraging the Internet of Things saves fleets time and money by protecting their tires, and improves safety for everyone who drives on the roadway.". – Paul Williams (EVP, Continental.)
According to data from the ifu Hamburg (Institute for Accident Analysis), tyre damage is one of the most frequent causes of motor vehicle accidents. "ContiConnect" could therefore make a valuable contribution to road safety.
---
Trending Now
You may also like