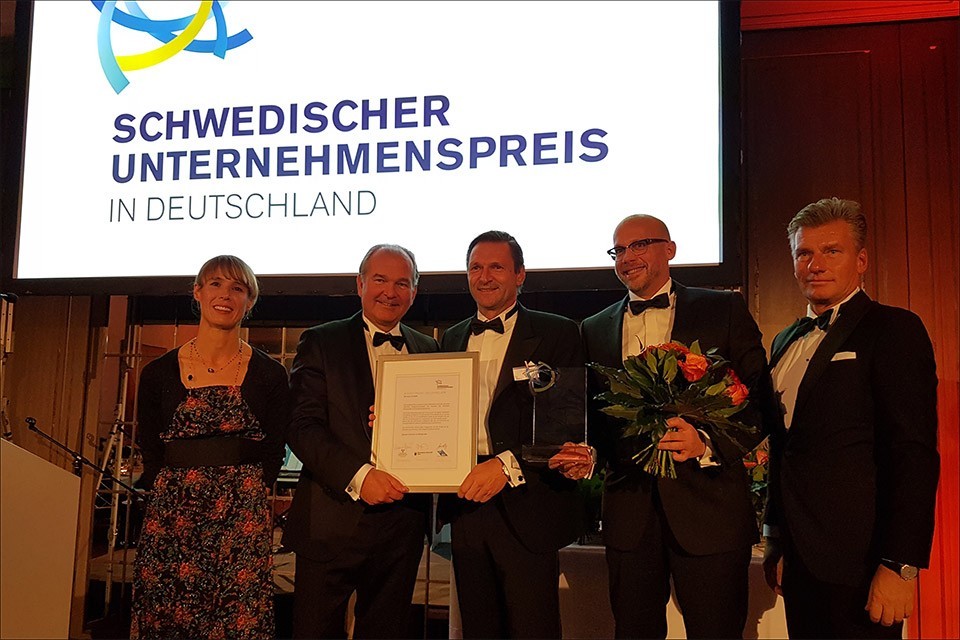 Picture: Ericsson GmbH -
Entrepreneur Award 2018
To honour the pioneering work of particularly committed companies of Swedish origin in Germany was the aim of yesterday's Swedish Entrepreneur Award 2018, at which Ericsson GmbH received the highest award in the category of large companies.
This year, for the 16th time, the Swedish Entrepreneur Award was presented to companies of Swedish origin that have successfully established themselves in Germany – and that significantly promote Sweden's reputation as an innovation leader across national borders.
"SMART INDUSTRY CO-LAB – INNOVATE WITH US!"
In time for the upcoming Hannover Messe 2019, at which Sweden will appear as a partner country, the focus of the day's programme this year was on global trends such as industry 4.0 automation, digitisation, the Internet of Things and artificial intelligence. These are areas in which Ericsson has repeatedly demonstrated its innovative strength, as Per Thöresson, Sweden's ambassador to Berlin, emphasized:
"Whether through its involvement in the Industry 4.0 sector at the Hanover Fair or by testing new technologies on the 5G-ConnectedMobility test field on the A9 motorway – Ericsson has repeatedly demonstrated its future orientation through numerous projects. The company is thus making a significant contribution to positioning Sweden as an innovation leader in the field of digitization and to filling the German-Swedish Innovation Partnership with concrete content".
One of the research projects Ericsson informed about as part of the daily program was the 5G-ConnectedMobility test field on the A9. Ericsson and its consortium partners have been testing 5G applications on road and rail here since 2016.
5G Connected Mobility
"5G-ConnectedMobility" creates a dedicated network infrastructure and a real application environment on the "Digital Test Field Motorway" to perform tests in particular in the areas of vehicle-to-vehicle, vehicle-to-infrastructure and digitisation of railway infrastructure with 5G technology.
The test track comprises an approximately 30-kilometer section of the A9 federal motorway and the high-speed rail link between the Nuremberg-Feucht and Greding junctions in Bavaria.
"Ericsson has been researching application scenarios of 5G for Industry 4.0 for a long time, starting with a cross-industry exchange on IoT, KI and Co. as part of our work at the 5G Alliance for Connected Industries and Automation (5G-ACIA) through to concrete joint cooperations with network operators and industrial companies. All this will also be on display at our stand at the Hannover Messe 2019 – so we are looking forward to seeing you". – Stefan Koetz (Chairman of Ericsson GmbH)
Deutsche Telekom is also testing new 5G mobility technologies in cooperation with DEKRA. However, the cooperation partners are working on the Lausitzring test and race track. With around 545 hectares, the area is the largest independent test area for networked mobility and automated driving in Europe.
Further information on the Swedish Enterprise Award, Ericsson GmbH, the Hannover Messe and the DEKRA Technology Center can be found by following the links below:
http://www.schwedenkammer.de/de/ueber-uns/schwedischer-unternehmenspreis/
https://www.wespeakiot.com/networked-mobility-with-5g/
---
Trending Now
You may also like