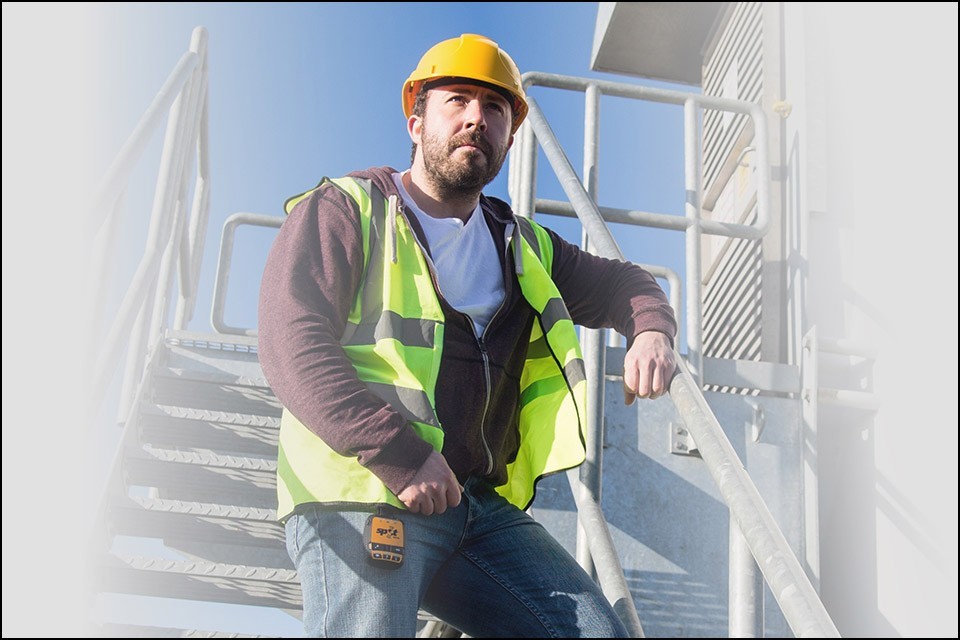 Picture: peoplesafe (web)
Lone Worker
According to data from the Association of German Statutory Accident Insurance, over 877,000 reportable accidents at work occurred in 2017. (Accidents that caused an incapacity to work of more than 3 days – or worse – are subject to reporting and recorded in these statistics.)
Compared with the previous year, the number of accidents and the overall risk (or probability) of an "accident" have fallen slightly. However, with the progress of technical developments, especially in the Internet of Things, these risks could be reduced considerably.
Lone Worker Devices
An exciting development is the so-called Lone Worker Device. LWDs are small, specialized devices that are able to register slipping, falling or even unconsciousness of their wearer – and trigger an alarm and other measures according to the event.
The possibilities of these devices are now numerous. The British company "peoplesafe", for example, not only offers simple, pre-configured mobile phones that check the user's security in a two-person procedure via a callto and callback system.
With the Lone Worker Application, peoplesafe offers automated alarms based on the sensors and technology of today's smartphones in response to predefined events, GPS tracking and also the integration of the use of additional devices, such as an alarm button that can trigger an action of the app via Bluetooth connected to the smartphone. This app is not only available for Android and iPhone, it can also be used on Windows phones.
In addition to many other simple devices that can send and exchange data via available conventional radio networks, Lone Worker Devices are now also available, which can use satellites to make an emergency call in addition to contact via mobile radio or edge servers. The "SPOT Gen3" is said to have helped over 5,000 people in emergency situations far away from the usual communication channels.
Win-Win
With the possibilities currently available, it would already be possible to monitor environmental parameters as well as the condition and function of the devices and tools used on site in real time by using IoT technology, especially in the industrial working environment.
If these means were not only abused, for example to monitor only the breaks and working hours of people, they could make an enormous contribution to increasing safety and preventing (serious) accidents. The use of this technology would be a benefit for everyone: construction workers would be safer; products/construction sites would be manufactured or completed faster and more effectively – and the Solidar society would be relieved, since fewer patients/injured would have to be treated.
---
Trending Now
You may also like