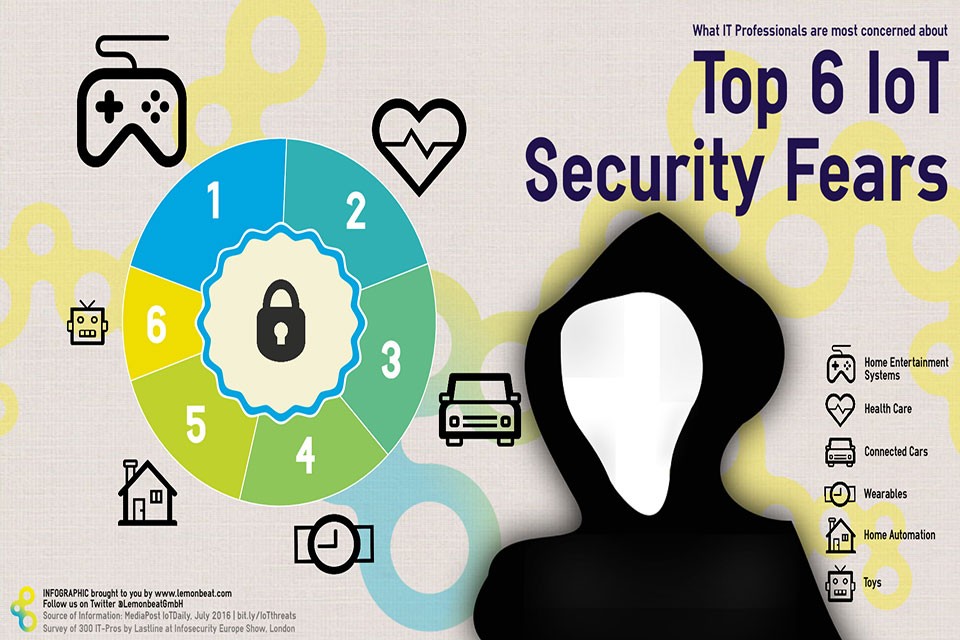 Top IoT Security Fears Infographic: Lemonbeat GmbH
What area concerns you most, when it comes to IoT Security asked Security Vendor Lastline 300 IT-Professionals during the Inforsecurity Europe Show in London in June. The result: Home Entertainment and Health Care lead the list. Closely followed by Connected Cars, Wearables and Home Automation. Toys played a rather minor role.
Lets crunch it down to the numbers. This is how the IT Professional voted:
Home Entertainment 37%
Health Care 34%
Connected Cars 32%
Wearables 29%
Smart Home 28%
Toys 18%
Even though Home Entertainment doesn't seem to be an as much as critical field than Health Care, Connected Cars or Smart Homes, Lastlines Brian Lang, Product Development, explained the lead because it's new, its wide spread and its simply an attracktive for hackers to give it a try.
"IoT presents one of those unchartered territories where people are opening themselves up to all sorts of maliciousness, purely because these devices are connected to the internet."
A different survey put Wearables at the list of the top concerning items[1] of IoT Security. Just because they are small, mobile and employees bring them to work and might connect their unsafe devices there, potentialle compromising the whole system.
---
Trending Now
You may also like