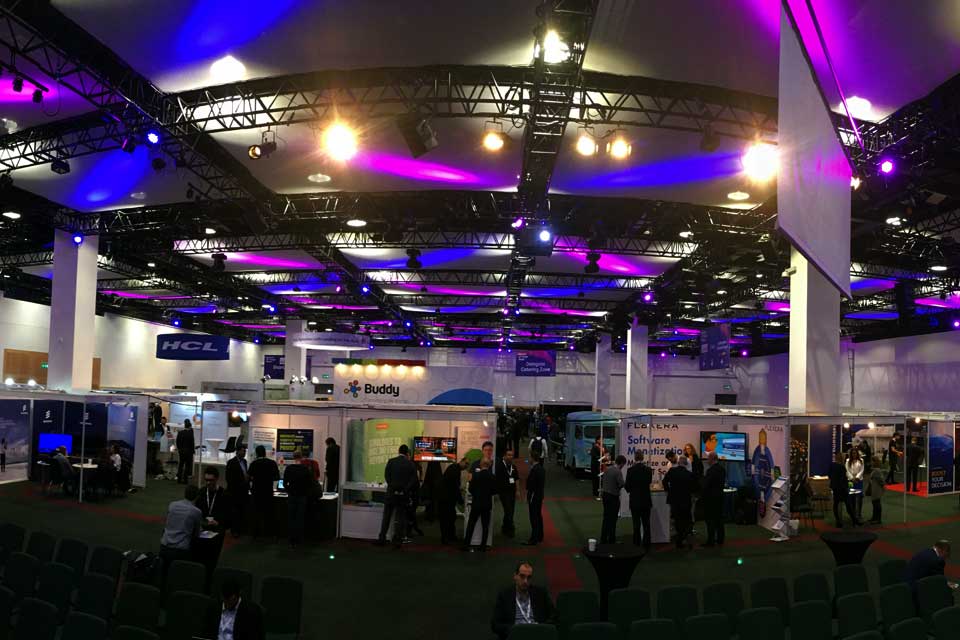 Main exhibition hall, Internet of Things World, Dublin. Photo: Guido Vogel/Lemonbeat GmbH
For two days in November the world of IoT met at Ireland's capital city Dublin for the Internet of Things World 2016. Two days of pure meeting, greeting, discussing and connecting. As a silver sponsor, Lemonbeat came with a team of four to participate in this last big IoT event of 2016.
"Welcome to Dublin! Home to Guinness, Oscar Wilde, U2, Temple Bar and now Europe's most comprehensive IoT show!" – This tempting invitation from the organizers convinced over 300 speakers from different industries plus over 100 sponsors, exhibitors and start-ups to participate at this year's IoT World Expo from November 20-22 in Dublin, together presenting more than 110 industry specific IoT case studies.
The main focus of this years IoT World was to showcase how today's enterprises leveraging this technology to enhance the efficiency of their businesses. The spectrum was broad: Speakers from IoT analytics, IoT architecture, IoT security, energy environment and agriculture, smart cities, smart homes and various industries shared their experience during the event.
For Lemonbeat, Standardization Manager Uday Davuluru participated on the panel "Edge vs Cloud: Platform to process and analyze the data" along with Dirk Pesch, Head of Centre, Nimbus Centre for Embedded Systems Research at Cork Institute of Technology and Martin Serrano, Unit Head IoT Experimentation, at Insight Centre for Data Analytics. Questions such as "where does cloud play with IoT and where does it not?" and "what are the opportunities and challenges with leveraging edge computing for IoT?" were posed.
Uday argued the point that cloud plays a role, when you need a global overview of the data collected by your devices. When it comes to local control however, like simply triggering actuators to keep an IoT installation running, the cloud is not required or can even be a hindrance because it can potentially slow down the whole system or add uncertainties in case of unattainability of the cloud server, be it of the server itself or the connection to it.
Bringing IoT closer to the edge meanwhile creates great opportunities for silicon manufacturers simply by generating increased sales of chips, that have to be added on every device. At the same time, IoT Systems will be able to deliver more data, even in realtime, that can be utilized for a much more detailed fine-tuning of every IoT ecosystem.
In turn, the challenges will be to overcome the limitations of constrained devices in terms of computing power and power supply. Since most of the edge devices will rely on battery power, they won't be able to run complex algorithms therefore being limited in their own actions. Then again, distributing more intelligence to the edge devices will significantly reduce the throughput of data going into the cloud.
Meanwhile on the Lemonbeat stand, we were able to present a special showcase, that we also featured at IT2Industry just a few weeks ago in Munich, demonstrating how our technology can be used to optimize production facilities easily by implementing all kinds of different sensors. In addition, the collected data can be used to enable a real time overview, for example, of temperature, power consumption or production output.
Save the Date
Your next opportunity to see us live is at CESIS Congress Berlin, December 13-14. We'll return at Internet of Things World from June 13-15 2017, this time in London! We're looking forward to meeting you there!
---
Trending Now
You may also like