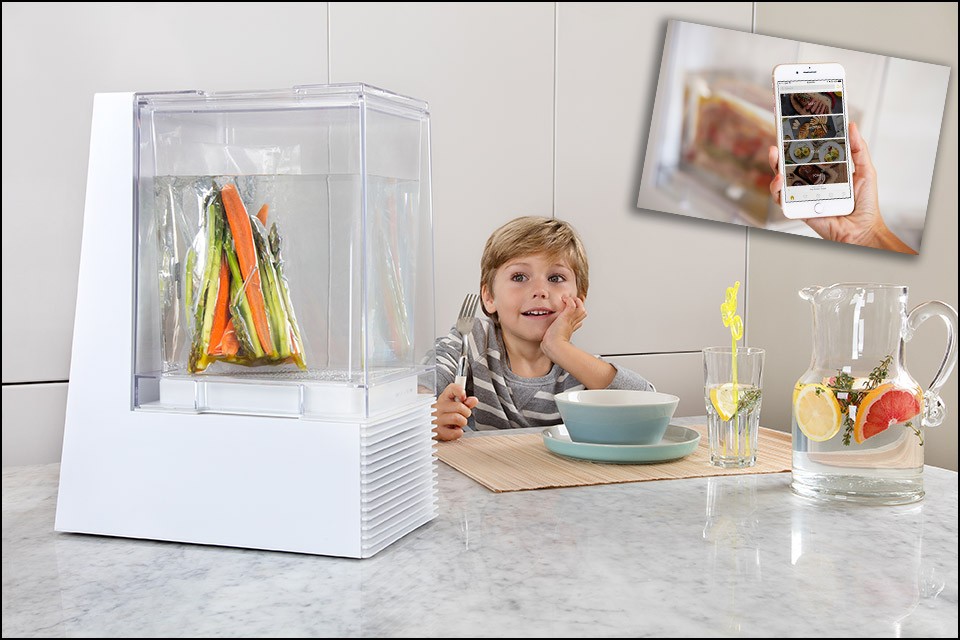 Picture: Mellow
Mellow Souse-vide
Pizza from the delivery service? An "original German" curry sausage with French fries – a kebab in a hurry? Or a freshly prepared meal at home after work instead? This is to be made possible by a new IoT steam cooker that  hit the market after a successful Indigogo crowndfunding campaign.
(/suːˈviːd/; French for "under vacuum")[1] is a method of cooking in which food is placed in a plastic pouch or a glass jar and then placed in a water bath or steam environment for longer than normal cooking times (usually 1 to 7 hours, up to 48 or more in some cases) at an accurately regulated temperature. The temperature is much lower than normally used for cooking, typically around 55 to 60 °C (131 to 140 °F) for meat, higher for vegetables. The intent is to cook the item evenly, ensuring that the inside is properly cooked without overcooking the outside, and to retain moisture. Source: Wikipedia)
The Mellow Souse-vide is a smart IoT kitchen appliance of the latest generation – which can also be controlled via the Internet after filling it with the ingredients for the meal to be prepared using a comprehensive app.
The preparation of a fresh meal can be started in this way at any time and from any place (assuming an existing Internet connection) – alternatively a timer can be set – and also the parameters of the recipe for the meal to be prepared can be adjusted.
Source: Mellow promotional video
The Mellow Souse-vide also has a built-in cooling system (output: 140 watts) with which ingredients and food can be kept as fresh as if they were stored in the refrigerator.
The appliance (output: 1,000 watts) cooks the food to be packaged in bags in its tank; a water bath which, in addition to temperature sensors, also has weight sensors so that cooling capacity and cooking times can be adjusted accordingly. According to the manufacturer, no special bags or a vacuum device is necessary to operate the Mellow – any modern plastic bag can be used in the device.
The high heating power of 1,000 watts is only required to reach the cooking temperature as quickly as possible – during the rest of the process, only about 30 watts are used to maintain the temperature.
At present, the appliance has only a single chamber for preparing a dish – it is therefore only partially suitable for the automated production of a complete dish, taking different cooking times into account. Another device, with 4 or possibly 6 chambers, is currently under development.
The Mellow, which was initially financed on Indiegogo via crowdfunding, currently costs US-$ 399 and can now be obtained directly from the manufacturer via the Internet. The app used to control the device is available for both iOS and Android.
---
Trending Now
You may also like