Stephen Hawking: "The Connected Wheelchair"
Posted On 14th March 2018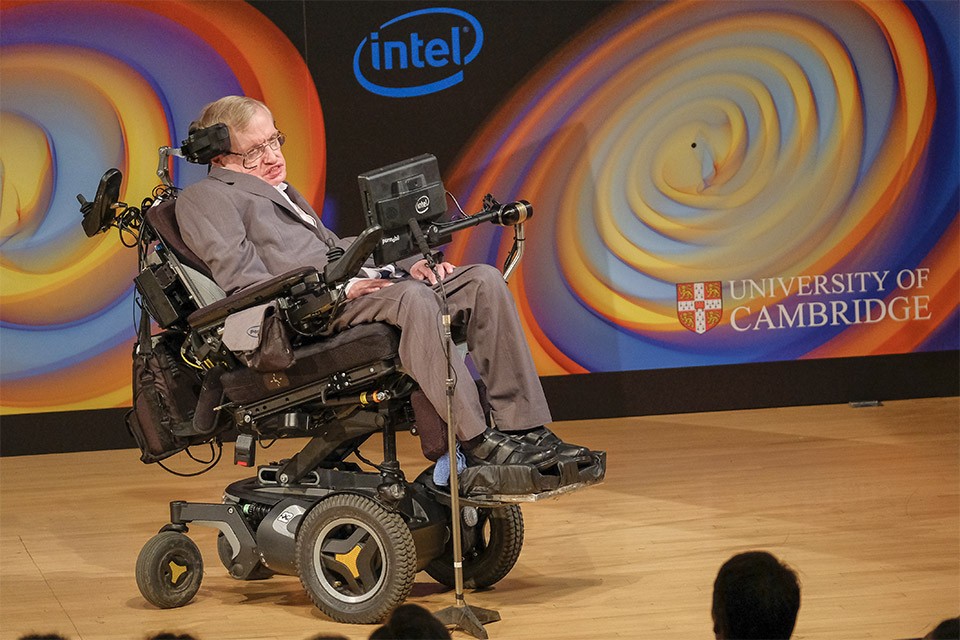 With the death of Professor Stephen Hawking (* 1942 Oxford, UK), humanity lost one of its most brilliant minds on March 14, 2018. The Oxford Fellow initially studied mathematics and physics before moving to Cambridge to study cosmology and astronomy.
It was there, too, when his illness broke out for the first time; He suffered several breakdowns and was later diagnosed with a juvenile form of amyotrophic lateral sclerosis. This incurable nerve disease subsequently leads to a complete degeneration of motor skills and muscle mass all over the body and – in most cases – after a few years to death.
Stephen Hawking was not only a brilliant, multi-honored mathematician and scientist – he was also a pioneer in the Internet of Things. His Permobil wheelchair is equipped and connected with more technology and sensors than modern motor vehicles.
The centerpiece is a (tablet) computer that Hawking has been using and controlling since the end of the 90s via an infrared sensor on his glasses, which registered the movements of his cheek muscles. The computer, with its Hawkings trademark advanced voice synthesizer, not only took control of wheelchair movement and monitoring of all directly connected devices, but is also equipped with a remote control that made it possible to operate a variety of connected things and devices; Including televisions, music systems, lights and door controls in Hawking's home and workplace.
Medical sensors on Hawking's body also monitored his vital signs and transmitted them wirelessly to the on-board computer of the vehicle, from where the data was relayed to other networked clients and alarms.
Hawking's wheelchair is a shining example of how networked technology can make life easier and richer; how it can not only enable people with special needs to participate in life, but also use all their talents and opportunities.
"Remember to look up at the stars and not at your feet." – Stephen Hawking. * 8.1.1942 +14.3.2018
---
You may also like