CrowPi2: The Raspberry Pi becomes a learning laptop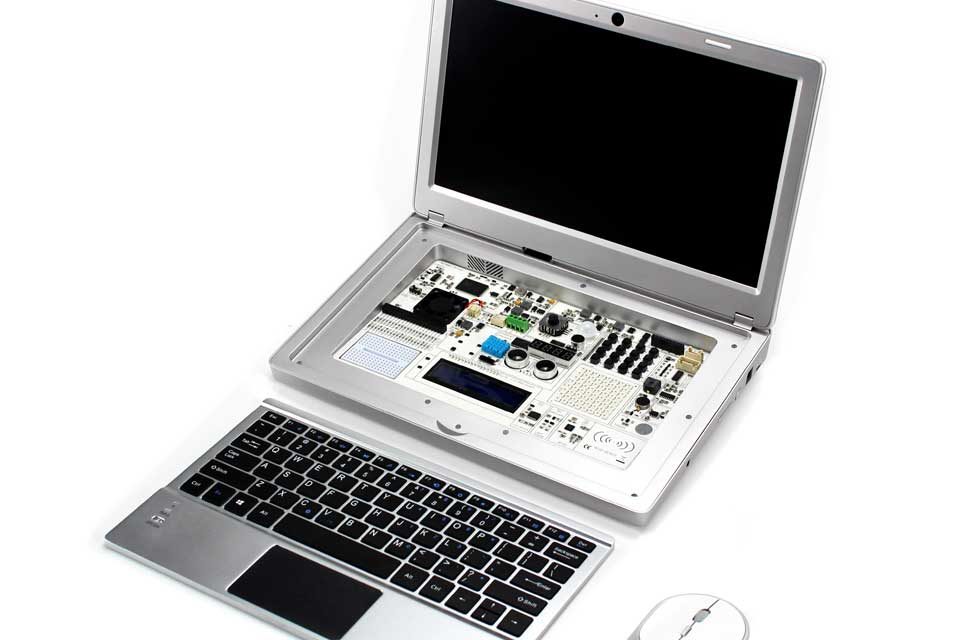 CrowPi2: The laptop as an experimental construction kit. Photo: Elecrow
While in the past it was the electronic experimental kits, today it is a computer kit that is intended to introduce children to so-called STEM topics: Science, technology, engineering, arts and mathematics. The "CrowPi2" aims to achieve this in a particularly versatile way. A flexible learning laptop, equipped with a variety of sensors and modules, suitable for children from 8 years of age.
On the crowdfunding page Kickstarter, the CrowPi2 from the Chinese company Elecrow collected over 25,000 euros for their laptop experiment set just a few hours after the launch.
CrowPi2: Laptop and experimental laboratory in one
The laptop intended for a Raspberry Pi is a quite versatile device. It is equipped with an 11.6 inch monitor with a Full-HD resolution of 1920*1080 pixels, a 2 megapixel camera, and stereo sound. The eyecatcher: A wireless WiFi keyboard that is simply locked in place by a magnet and can be easily removed. Under the keyboard, the real experimental lab unveils. A board crammed with sensors and modules for the most diverse ideas. A total of 22 sensors for humidity, temperature, noise, brightness, movement, ultrasound, a 4×4 button matrix, buzzer, vibration motor, RGB LED display, switching relay and more.
Learn programming the easy way
The CrowPi2 comes with an own developed teaching software to learn Scratch, Python, Minecraft and Artificial Intelligence (AI) in over 70 lessons. In addition to this, over 30 other Python based projects and games are included.
Raspberry Pi can be purchased optionally
The Kickstarter project offers the possibility to support different packages of the CrowPi2. The smallest version, the Basic Kit from about 120 Euro for the first 200 supporters is delivered without a Raspberry Pi. Only the Starter Kit starting at around 210 Euro comes with a Raspberry 4B and 4 GB RAM. Although the CrowPi2 is also compatible with the Raspberry 3B and 3B+, Electrow recommends using it at least with a 4B and 2 GB RAM.
The Deluxe version for about 310 Euros will be delivered with additional sensors and modules, accompanying books, a carrying case and two game controllers. The Kickstarter campaign will run until mid-August. Shipping is also scheduled to start in August.
---
You may also like