Europe ahead in industry 4.0, US behind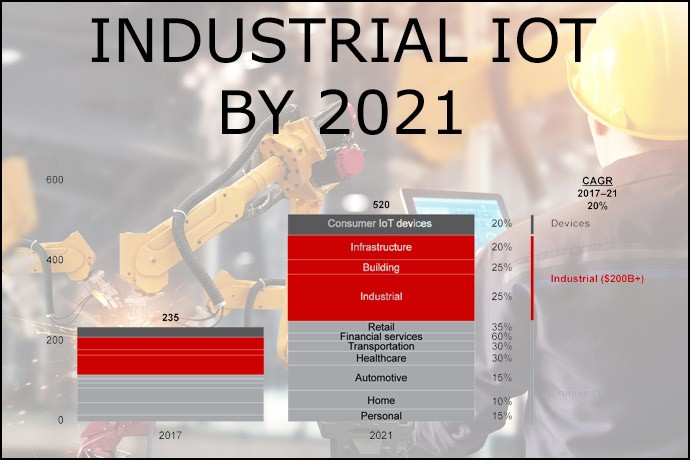 Photo/Graphic: Fotolia/Bain/ab -
Industry 4.0 by 2021
The recently published study by Bain & Company on the development of the industrial Internet of Things (Industry 4.0) confirms that the European market is a (surprising) pioneer in the IoT.
More pilot projects, higher investments: Europe has further expanded its worldwide pioneering role in the Internet of Things (IoT). Since 2016, for example, the companies based here have been reported to have driven forward and expanded their industrial 4.0 projects three times faster than their competitors from the USA.
Europe in pole position
Below are some findings from the current study "Europeans Extend Their Lead in the Industrial Internet of Things", for which Bain & Company interviewed more than 600 IoT managers in Europe and the USA:
[Bain & Company is a global management consultancy headquartered in Boston, Massachusetts. One of the "Big Three" management consultancies (MBB), it is seen as one of the most prestigious employers in the industry.[7] The firm provides advice to public, private, and non-profit organizations. – Source: Wikipedia]
"According to the study, almost half of the study participants in both regions intend to implement new IoT projects. However, European companies have "significantly more experience with IoT technologies" and thus "a real competitive advantage" – says Christopher Schorling (Bain & Company).
"Europeans already know how to profitably deploy IoT solutions along the entire value chain."
In a first study on this topic in 2016, 27 percent of European and 18 percent of US companies surveyed had announced the introduction of new IoT applications. At the time, Europeans were also planning to invest a higher proportion of their IT budgets in these new technologies. In particular, automobile manufacturers as well as construction and industrial companies were already relying on numerous extensive pilot projects at that time.
These early efforts now seem to be paying off. Although the current study shows that European companies also continue to face major challenges in introducing IoT technologies and entering industry 4.0, many US companies are still struggling with teething troubles that some Europeans have already overcome.
In addition to a lack of technical expertise, these include problems with the integration of IoT technology and the interaction of different systems and platforms.
In the current study, the Americans even mention such start-up difficulties more frequently than two years ago. They obviously prevent IoT technologies from being quickly integrated into day-to-day business. The US companies surveyed are planning mainly pilot projects by 2022. Currently, about half of them have reached at least this first stage of the implementation of industry 4.0. By 2022 it should be around 70 percent.
On the other hand, Europeans are already working on business models that will refinance their investments, as well as on regulatory aspects and security issues. Their pioneering role is also reflected in their investment plans. In the next two years, European companies want to have implemented more than twice as many large-scale IoT projects as their US competitors.
Problem child I(o)T Security
For respondents from both regions, the biggest hurdle for the introduction of Industry 4.0 seems to be the security of the applications. A good half of the Europeans see this as a central problem – for the Americans it is just under a third.
"The European providers of IoT solutions have great opportunities to take the lead in the area of cybersecurity. After all, they are forced to satisfy their domestic customers, who are highly demanding when it comes to security issues. – Christopher Schorling (Bain & Company).
If they were also able to master the EU's sometimes complex data protection and regulatory requirements, they could gain a significant competitive advantage over their US and Asian counterparts.
But Europeans should not rest on their laurels. The plans of US companies are extremely ambitious. In the next ten years, they want to be on a par with the Europeans in both pilot projects and business-critical implementations.
In order to maintain their lead, European IoT providers should initially focus on certain industries. In these selected segments, they could develop outstanding expertise and thus offer convincing complete systems. In addition, IT companies would have to cooperate closely with their customers in order to systematically implement their specific requirements in software that can also be seamlessly integrated into industrial processes.
"Over the next two or three years, the winners will emerge in the Internet of Things category. Companies that postpone their IoT investments will lose competitiveness. On the other hand, those who network their machines, systems and products and use the resulting data are among the profiteers in a world of far-reaching automation and artificial intelligence". – Oliver Straehle, (Bain & Company)
You can find the complete study here.
---
You may also like