Tata Motors electrifies India
Posted On 13th August 2019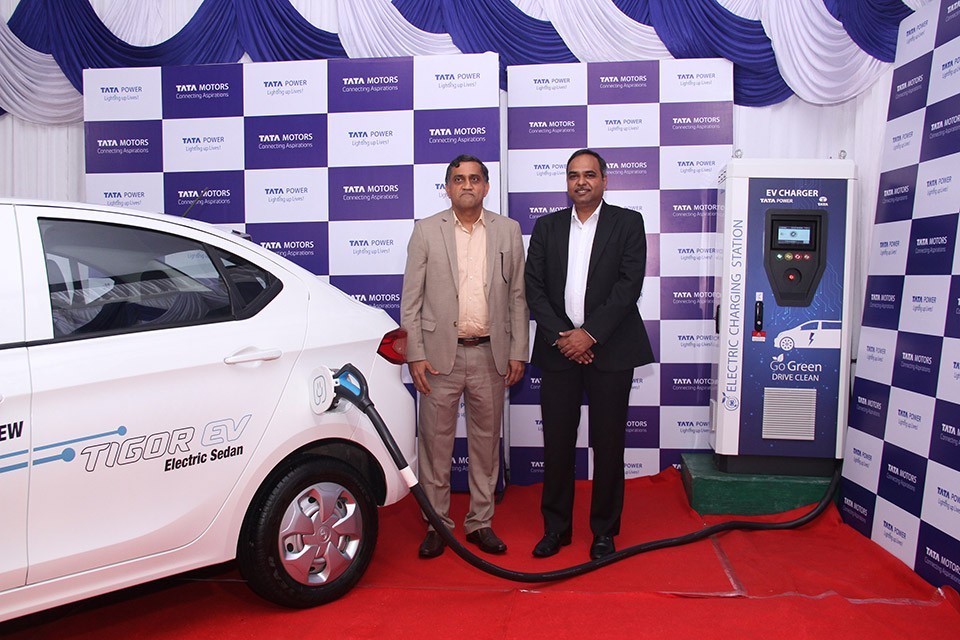 Photo - Tata Motors/Tata Power -
Electric charging station - Ramesh Subramanyam [CFO & President Tata Power], Mr Shaile
While the progress of the Smart Grid in Germany – and the general expansion of new e-Infrastructure – can at best be described as "hesitant" by state authorities and reluctant companies, in other countries progress is progressing at a faster pace.
Tata Motors recently announced that it will build a total of 300 smart charging stations for electric vehicles in five major Indian cities by the end of fiscal 2020 in cooperation with its sister company Tata Power.
The cities "electrified" in a first step include Delhi, Mumbai, Pune, Hyderabad and Bengaluru. Installation of the first seven charging stations in Pune has already begun. The next 45 charging stations will be built in the coming months.
The first 50 units will be 15kW chargers and comply with the existing Bharat standard – the Bharat DC-001 corresponds to an industrial socket according to IEC 60309.
[Bharat stage Emission Standards (BSES) are emission standards introduced by the Indian government to regulate the emission of air pollutants from combustion engines and spark ignition engine equipment, including motor vehicles. The standards and timetable for implementation are set by the Central Pollution Control Board under the Ministry of the Environment, Forests and Climate Change. The standards, which are based on European regulations, were first introduced in 2000. […] – Source: Wikipedia]
The remaining 250 chargers with 30 to 50 kW are equipped with the CCS2 connection, which is also widely used in Europe.
Global standards at Indian e-fuelling stations
According to local media reports, the Indian government decided in July to build CHAdeMO and CCS charging stations in addition to the domestic Bharat standard – the GB/T standard from China, which has also been under discussion for some time, is obviously not being used. However, Tata seems to have opted for the CCS standard, which will enable a possible future export of Indian technology to other countries.
This expansion of the network also seems to be an indication of the imminent introduction of the Tata Group's electric cars. Tata currently only offers the Tigor EV, of which there will be a higher quality version. While European suppliers and manufacturers are reluctant to focus on the premium market; at most overpriced, much too heavy, environmentally harmful SUVs and sports cars, Tata Motors has recently introduced four new electric models that are to be introduced to the Indian market within the next 18 months.
In comparison, the behaviour of German and European car manufacturers can be called "counterproductive", if not "destructive". New locations are to be opened in non-EU countries with lower production costs (such as VW recently did), better prices for consumers, or even innovative, smaller, more economical (e)-cars were not promised.
The availability of high-quality but affordable e-automobiles in Germany and the EU would not only help to achieve climate protection goals – it would also accelerate the urgently needed expansion and conversion of existing grids, promote alternative energy production and even contribute to welcome structural changes by increasing the attractiveness of small-scale production plants.
"We are committed to making India EV ready in line with the Government's ambition of providing green technology solutions and Tata Group's vision of reducing India's carbon footprint. Our aim is to make EV Charging as fast and easy as possible for all Indians and we are very pleased to partner with Tata Motors, with whom we jointly identified high priority locations which could be preferred by the potential EV owners." – Praveer Sinha, MD & CEO Tata Power
Direct current still insignificant in India at present
Direct current rapid charging still plays a subordinate role in India at present, which is why the charging capacity is low by European standards. The vast majority of electric vehicles in India are two and three-wheelers for which fast charging technologies do not make economic sense. As a rule, these are charged at the 15 amp socket outlets customary in the country.
It remains to be seen whether the ongoing developments and infrastructural expansion measures in other countries will also reach Germany – or whether they will continue to be slowed down by over-regulation or a lack of courage to make progress. Only a few providers, such as Innogy SE in cooperation with numerous municipal utilities and the Federal Ministry of Transport and Digital Infrastructure (BMVI), are currently investing in the expansion of a smart grid.
---
You may also like