Astrocast: IoT from orbit
Posted On 21st January 2019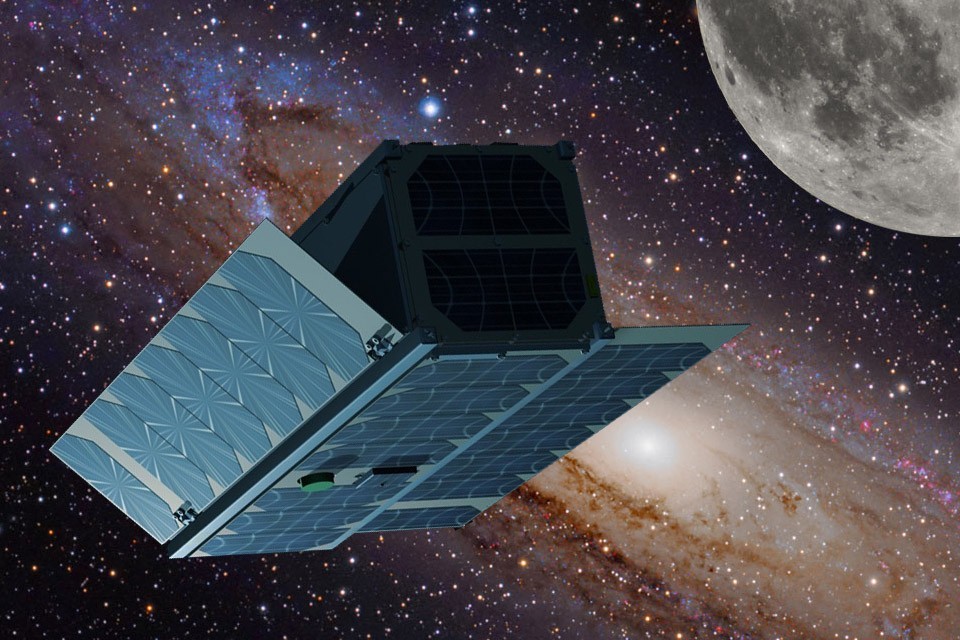 Graphic: Wikipedia/Astrocast/ab -
Astrocast IoT Satellites
At this year's Consumer Electronics Show ("CES" – 8.1.2019 – 12.01.2019, Las Vegas, USA) the Swiss company Astrocast SA presented its new nanosatellite network for the Internet of Things.
Astrocast SA (a brainchild of Swiss Cube development) is working in collaboration with the European Space Agency, Airbus and Thuraya on the construction of a modern nanosatellite network for the IoT. In technical cooperation with Airbus, the provider has developed a very cost-effective, energy-efficient satellite modem which, according to the company, will enable IoT devices around the globe to establish a bidirectional connection to one of the 64 nanosatellites in the network in LEO (Low Earth Orbit) at any time.
This new network will not only demonstrate the capabilities of modern communication satellites, but also show and prove the feasibility of providing affordable communication to autonomous devices and remote facilities through pilot projects in cooperation with Actia, Marine Instruments and Swiss Fresh Water.
"Our integrated telematics equipment is designed to cope with the most difficult tasks in the most remote areas of the world. Companies in the agricultural, construction and transport sectors are among the many who rely on us to network their vehicles. Astrocast will enable us to connect vehicles everywhere." – Philippe Cabon (Actia)
Mobile networks currently supply only about ten percent of the world with IoT connections – and less than one percent of the globe is covered by IoT networks such as LoRaWAN or Sigfox.
With the introduction of an L-band two-way communications nanosatellite, Astrocast plans to enable global access at an affordable price. Satellite communication is still too expensive for most companies today. From now on, even small companies – such as Swiss Fresh Water, which introduces and operates water treatment systems in remote villages around the world – are to be enabled to monitor their equipment at any location.
"When we started this project, we knew we had the right tools and technologies to deliver clean water to the world. Our water stations are central to some of the most remote villages and provide a lifeline for these communities. Thanks to Astrocast, we can ensure that these water treatment units produce clean drinking water, while we can maintain them remotely to ensure their operation." – Jean-Luc Mossier (Swiss Fresh Water)
Astrocast describes its network and associated services with the following characteristics:
100 % global coverage including remote areas
Lowest latency near ground network
two-way communication
L-band and S-band frequencies
Communication module with smaller dimensions than a credit card and developed in cooperation with Airbus
256-bit encryption with multi-level security
Web application for monitoring attachments and subscription plan
"The growth of IoT commercial equipment exceeds analysts' forecasts. And in many cases, these devices perform tasks that affect the lives of entire populations. Astrocast makes new world-shaking IoT applications possible." – Fabien Jordan (Astrocast)
In fact, satellite networks could in future simplify many processes and make recurring tasks/necessities superfluous. In energy supply and building management, for example, edge servers could aggregate the data, bundle and send it via a satellite network to the service provider, while remote facilities/objects could transmit alarm messages in real time to the appropriate authorities. Provided that such satellites have a long service life, this would not only save costs in the long term, but also reduce ecological burdens, as maintenance and data transmission, for example, could be carried out on site without human intervention.
Further information on Astrocast, Airbus, Swiss Cube etc. can be found at the following URLs:
Astrocast
Airbus
Swiss Cube
ESA
---
You may also like