Why room and building automation systems are separate – and what you need
Posted On 20th October 2017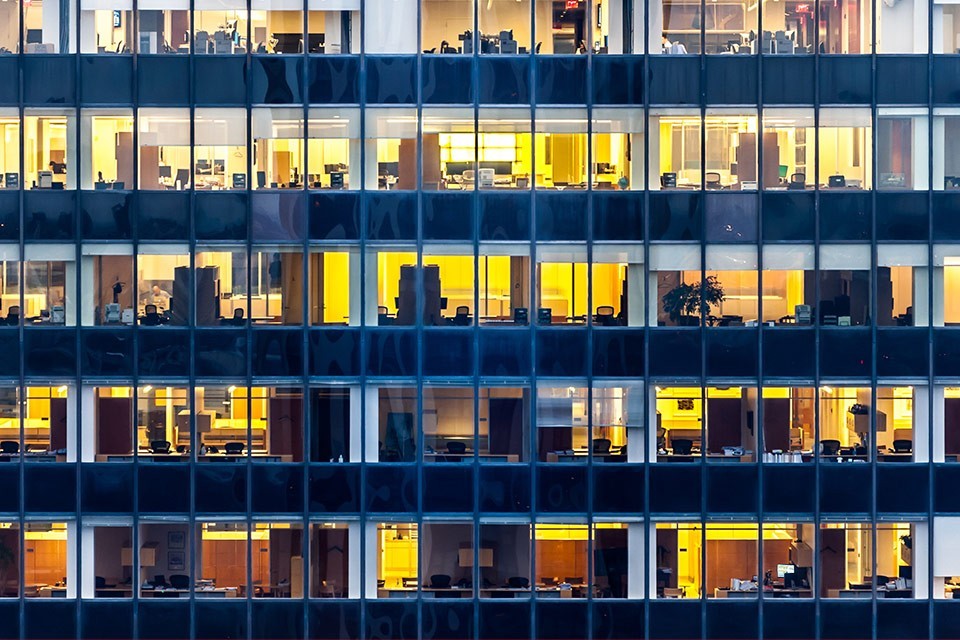 A large or medium-sized office or commercial building might contain hundreds of rooms. Modern technology enables each of those rooms to benefit from automatic control of the parameters that most affect the occupants' health, safety, comfort and productivity – notably the lighting, and the air temperature and quality. But what do you actually need to achieve these benefits – room automation or building automation?
The most advanced automation systems today will have an array of sensors to measure these parameters inside each room:
typically an infrared sensor to detect occupancy
a temperature sensor
an ambient light sensor. The best light sensors today respond to luminance in almost the same way as the human eye does, to give realistic measurements of the brightness of light falling on the surface of the sensor.
a gas sensor sensitive to carbon dioxide (CO2) or volatile organic compounds (VOCs). The readings from a gas sensor can be processed to provide a proxy measure of indoor air quality (IAQ).
In conventional systems, these sensors cannot accomplish anything on their own. They send their data to a control panel where it is collected and processed to switch and dim the lights, open and close the window blinds, adjust the speed of the ventilation fans and so on. With new IoT technologies coming up, sensors can also pre-process data and send it directly to actuators in the room. Blinds, fans and lights then are also able to process the incoming information. They decide themselves when to react in response to inputs from the sensors, and settings chosen by the room's users. Compared to conventional systems, that makes networks a lot more lean.
The point here is that all of these sensing, control and actuation functions are – or at least can be – local to the room itself. They are an example of a type of system that is best described as 'room automation'.
If this technology is deployed in each room in a large building, most of the space will be subject to some form of automatic control. So is this collection of room automation systems a 'building automation' system?
Well, no. In fact, building automation has a different set of functions. It's worth being clear about the difference, because with an understanding of the different functions of room and building automation, the building's operators can make an informed decision about how best to connect all of a building's sensors, devices and controls.
A building automation system controls functions that operate over the whole building, or large parts of the building. A fire safety system is a good example of building automation. It will draw on data from sensors (smoke detectors and temperature sensors) in individual rooms. But the system has to operate across the whole building. If a smoke detector detects smoke in a single room, it cannot confine its operations to that one room (for instance by triggering sprinklers in that one room). Alarms will need to be sounded in some or all of the building, emergency lighting activated in corridors and stairways, alerts transmitted to emergency services, electrical systems shut down, and so on.
In the same way, heating and ventilation controls have a building-wide aspect to their operation: depending on the outside temperature, the building's vents will need to be opened or closed centrally, and water heaters turned up or turned down. Lighting systems too will typically have an element of central control to adjust their operation outside normal working hours.
Implementing building automation calls for a sophisticated hardware architecture that is inherently more complex than that of a single room automation system. But it will in part draw on components – sensors and so on – that are also used in room automation.
The question for makers of automation systems, and also for customers who specify building systems, is how to make the connections between room automation and building automation systems as simple and transparent as possible. Simple and transparent systems are always preferable in technology, provided they offer the required functionality, because they are cheaper to buy and install, and easier to maintain and repair, than more complex alternatives.
---
You may also like