Deloitte survey: Smart Homes on the rise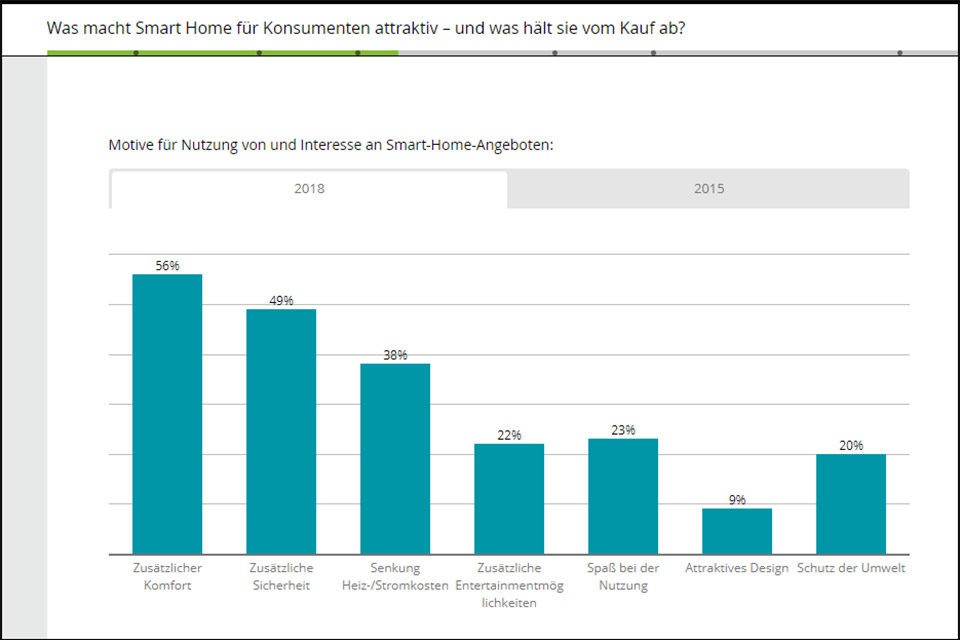 Picture: Screenshot (Deloitte)
Smart Home Study
Increased security, more comfort, lower electricity and heating costs and lower environmental impact – according to the Deloitte Smart Home Study 2018, the Germans expect smart home devices to be available on the Internet of Things.
In this year's survey, the fourth publication in the study series, Deloitte asked consumers aged 19 to 75 about their usage patterns, preferences and smart home visions.
Among other things, Deloitte examined how widespread smart home solutions already are – and how great the further interest in them is. The study participants were also asked about their experiences with corresponding smart home devices; which providers they consider trustworthy – and which end devices they would prefer.
Some key findings:
Smart home devices are no longer an exotic gimmick of a minority of technology enthusiasts. Approximately 16 percent of Germans already use at least one of the numerous smart home solutions available on the market. However, there is also a clear relationship between the general interest in smart home solutions and disposable income. Acceptance and use of such devices is increasing in connection with income, according to the survey.
In the lower income classes up to 2,000€, such devices are only under averagely widespread; only 8-9% of people use smart home technology. In the higher income classes, the share rises to an above-average 27-28%.
Stock/Inventory (), purchase intention [] and fundamental interest in networked smart home solutions:
Switches, sockets: (18%), [10%], 28%
Heaters, themostats: (10%), [12%], 33%
Alarm systems: (10%), [11%], 34%
Lamps/Lamps: (12%),[11%], 30%
Security cameras: (8%), [10%], 33%
Speakers: (15%),[9%], 26%
Blinds, doors windows: (9%),[10%], 31%
Elemantary protection systems (smoke detectors etc.): (6%), [10%], 34%
Media server: (14%), [8%], 28%
Smart speakers (e.g. Amazon Echo): (13%), [10%], 24%
Smart household appliance: (5%), [9%], 31%
Emergency call systems: (4%), [6%], 31%
Smart cleaning device: (6%), [8%], 24%
Robot turf: (4%),[7%], 22%
Smart door lock: (4%),[5%], 20%
Among the 2000 respondents in the Deloitte study, reservations about smart home solutions are mainly regarding costs and security: 38 percent of those surveyed consider the systems too expensive – which explains why the acquis communautaire also increases with rising household incomes.
With regard to security, the consumers surveyed in Germany are primarily concerned about privacy: 33 percent of those surveyed decide against smart home devices for this reason. The fact that, in addition to the danger to its own data, the Internet of Things is repeatedly abused for hacker attacks and its own thermostat could participate in DDoS attacks remains a problem for the growing industry.
Further information on the study – including download of the paper.
---
You may also like