E-World Energy & Water: a glance back at the fair
Posted On 15th February 2019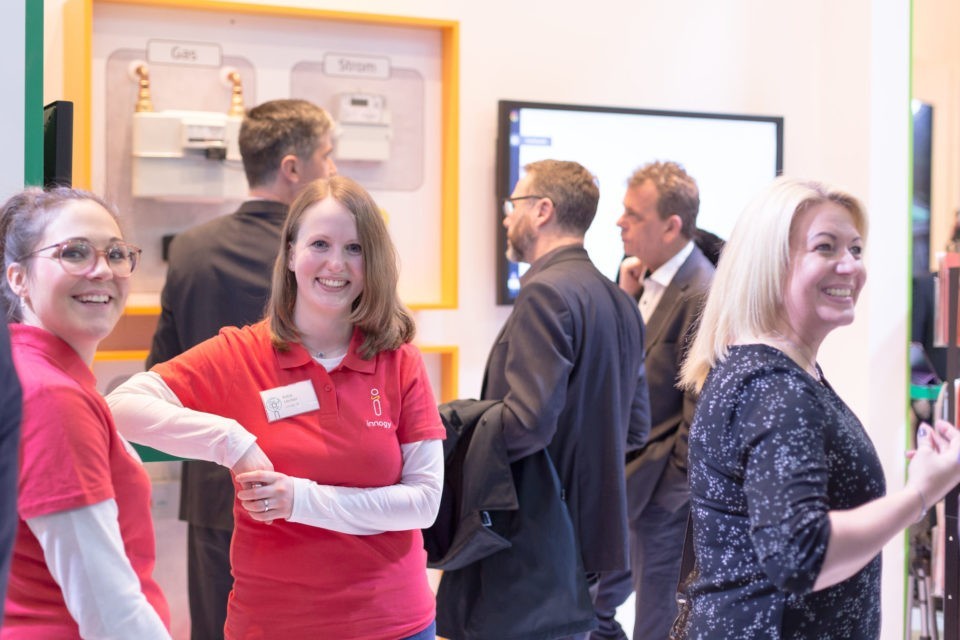 E-World/Messe Essen innogy/Lemonbeat
Foto: Dennis Knake/Lemonbeat GmbH
A view of the future of the power supply could win the inclined visitor to the fair in the past week on the E-World energy & water of this year in Essen.
The E-World, which has been held annually since 2001, is regarded as the leading trade fair for the energy industry and also reached new record levels in 2019 during the three days of the event. 780 exhibitors from 26 countries presented their new equipment, products and services to over 25,000 trade visitors.
Place to be
"Europe's leading trade fair for the energy industry has once again underlined that it is the 'place to be' for the entire industry. This is also shown by the high proportion of international visitors, which was ten percent higher than in the previous year. We are particularly pleased that we were once again able to welcome more decision-makers. Four out of five visitors to E-world have a management function, which perfectly reflects the significance of the trade fair." – Oliver P. Kuhrt (Messe Essen)
Once again, one of the main topics at this year's E-World was the ongoing digitalization in the fields of energy supply and real estate. Digitization offers new, "intelligent" solutions for networking the energy supply of entire neighborhoods; for resource-conserving control of household electricity consumption and even for setting up and improving an infrastructure for electromobility.
Climate-friendly, resource-saving technology
Intelligently equipped, networked devices and buildings can make a decisive contribution to conserving limited resources – an aspect that has been neglected for far too long in view of the advancing climate change. For example, various exhibitors at E-World 2019 demonstrated how supraregional energy management can work if houses or quarters are also supplied with locally generated energy and even electric vehicles are integrated into the supply chain.
On the subject of e-mobility, Innogy SE from Essen presented modern charging boxes and charging stations for private and commercial use.
"As always, we were able to present a large number of innovative products ranging from Smart Home to e-mobility and energy-saving solutions to various network services to the highly experienced international trade public. On the subject of electromobility, we were particularly proud to be able to present a world premiere with our new generation of charging stations at Germany's largest energy trade fair". – Stefan von Dobschütz (innogy eMobility Solutions GmbH)
Of particular interest is also the "M5BAT" from Düsseldorf-based Uniper SE, a hybrid energy storage system for renewable energies that was specially developed to absorb and balance power fluctuations in the grid.
"Our product innovation of the 'Green Full Supply', with which we offer distribution and industrial customers a reliable full supply of electricity and at the same time flexible proofs of origin for the complete delivery quantity, was very well accepted". – Gundolf Schweppe (Uniper)
Also exciting are "intelligent cellars" from Dortmund-based Lemonbeat GmbH, whose "Lean Metering" concept offers a complete package for recording consumption data (electricity, gas, water, etc.) for the real estate industry, with which not only operating costs can be optimised, but emissions can also be reduced.
"The digitization of the housing industry was a hot topic at e-World. With our solution for smart consumption data recording in residential buildings, there was really no boredom in the three days. We were particularly pleased about the attention of the president of the Federal association of German housing and real estate enterprises (GdW) Mr. Axel Gedaschko in company of further considerable representatives of the German real estate and housing industry. The visit of E.ON CEO Dr. Johannes Teyssen was also a highlight for us. The trade fair was the perfect opportunity for us to introduce the industry to our solution, which is particularly suitable for flexible retrofitting of existing buildings". – Guido Vogel (Lemonbeat)
In addition, consumer portals were also presented, which energy suppliers can make available to their customers – and which provide considerably more transparency in energy consumption. There were also vehicles on display that used biomethane from straw bales, smart street lamps that offer WLAN, free parking spaces, charging stations for e-cars and much more.
In the coming year, con|energy and Messe Essen will once again invite visitors to E-World "energy & water".
Further information about E-World and some of the exhibitors can be found at the following URLs:
E-World "energy & water"
Innogy SE
Lemonbeat
---
You may also like