German manufacturer Gigaset introduces new Smart Home camera
Posted On 6th January 2021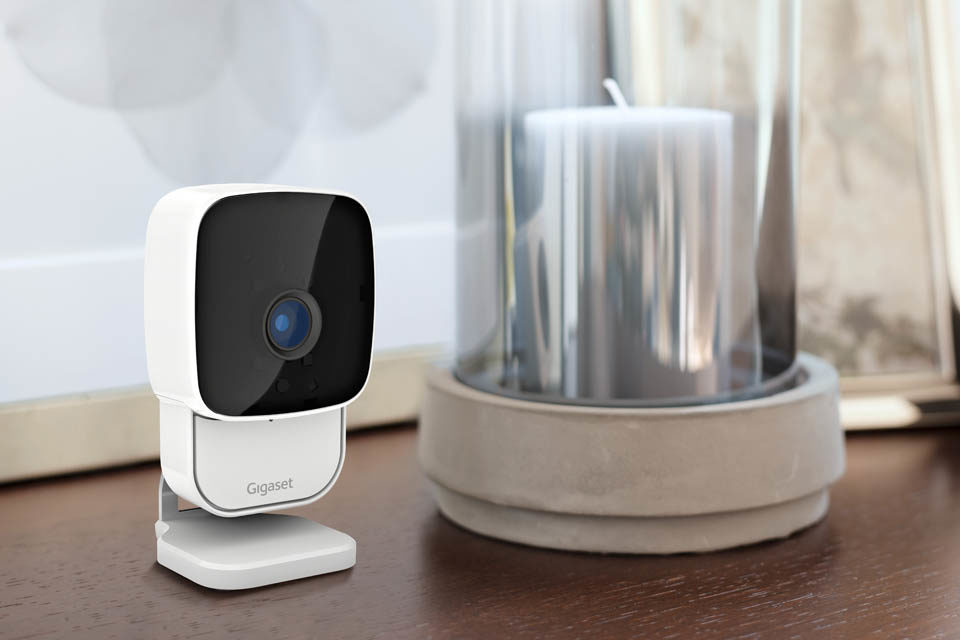 Gigaset Smart camera 2.0. Source:
Gigaset
Although it is called "Gigaset camera 2.0", it is now the third generation of cameras from the Germany-based company Gigaset. The new indoor smart home camera follows the outdoor version introduced last summer and monitors indoor spaces in full HD quality as well as infrared technology by day and night. Users can thus get live images from home directly to their smartphone and are being notified in the event movement. Since the camera also has a built-in speaker and microphone, it can also be used to remotely communicate with family members or confront a burglar.
The Gigaset camera 2.0 is a stationary WLAN smart home camera that can either be placed on a shelf or permanently mounted on a wall or ceiling. It has a built-in microphone and speaker, so it can also be used for 2-way communication between the camera and smartphone. The camera captures a viewing angle of almost 90 degrees horizontally and around 50 degrees vertically. While real-time recordings are transmitted in Full HD quality (1920x1080p), the camera saves recorded videos in the slightly lower HD resolution (1280x720p) to the Gigaset cloud. In the dark, the camera can capture and display up to 6 meters of range thanks to built-in infrared technology.
Security features of the smart home camera
Anyone who is using cameras at home must be able to trust the manufacturer that it meets common security standards, so that external attacks are as difficult as possible. Webcams in particular have repeatedly been the target of hacker attacks in the past. However, the particularly inexpensive no-name models regularly top the hit lists of current security reports.
The Gigaset camera 2.0 supports WLAN on 2.5 GHz and common encryptions like WPA/WPA2/TKIP/AES. However, the new WPA3, which is already supported by many routers like from AVM, is not listed in the technical description. In order to retrieve the recorded motion pictures on the smartphone, Gigaset stores the recordings in the Gigaset Cloud, which is also part of the Gigaset alarm system.
To avoid being recorded around the clock or while going to the toilet at night, the camera switches off all automatic recordings in privacy mode.
Gigaset cloud
In the freemium version, manually recorded videos with a maximum length of 30 seconds are stored for up to 2 days. However, they cannot be saved or shared. This is only possible with the Safety Indoor Package for 0.99 euros (~1.2 USD) per month or 9.99 euros (~ 12 USD) for 12 months. Other cloud packages are available for 1.99 euros / 4.99 euros (~6,15 USD) per month or 19.99 (~25 USD) / 49.99 euros (~61,60 USD) per year. Here, the 30-second limit on manually recorded videos is also waived. In addition, recordings are stored for up to one or four weeks.
Price
The Gigaset smart home camera is currently available in the Gigaset store for around 160 euros. In addition to the camera with magnetic stand, the scope of delivery also includes a screw set for wall mounting, 2 alarm stickers, 1 reset pin as well as a power adapter and quick start guide.
---