IFA 2019: Smart Living, AI, Robots and more
Posted On 6th September 2019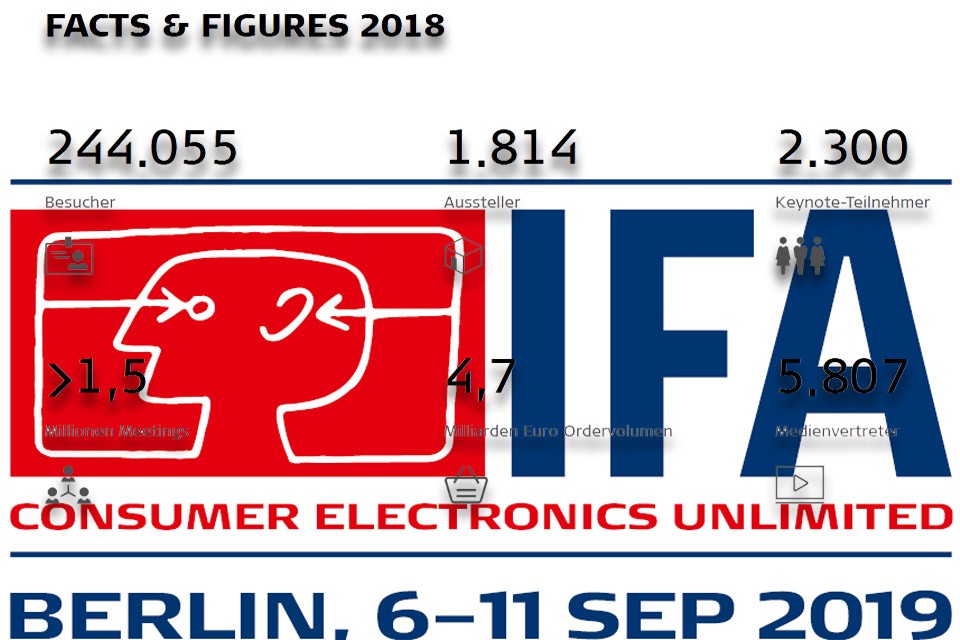 Graphic: IFA/ab -
Internationale Funkaustellung 2019
The IFA in Berlin is the world's leading trade fair for consumer electronics and home appliances. It will take place in 2019 from September 6th to 11th at the Berlin Exhibition Grounds – this year it will enter the 59th round. Manufacturers from all over the world will be presenting their latest products and innovations from the fields of consumer electronics and household appliances for smart living, AI, robots and more.
Journalists from all over the world will once again report on the latest product launches and innovations at IFA this year. And the trend is still the same: artificial intelligence. Many types of devices work with digital systems, networked with the Internet of Things, which "learn" themselves and thus become more powerful over time. In addition, screens promise to become real eye-catchers again. Flexible OLED displays or tablets that fold to half size herald a new era. And robots are also attracting attention this year. On the one hand, they can act as entertainers, but their use in the field of health care is particularly remarkable.
Smart Living
At the IFA from 6 to 11 September 2019 in Berlin, at the joint stand of the VDE, ZVEH and ZVEI associations at the House of Smart Living (IFA NEXT, Hall 26 A, Stand 205), participants of the "Smart Living" business initiative will make it possible to experience the living of the future and the use of modern technologies, also in connection with artificial intelligence, through the House of Smart Living (IFA NEXT, Hall 26 A, Stand 205). Under the motto "Fit for the digital world", the focus will be on the topics of "digitisation and networking" as well as exchange with young people.
Can artificial intelligence and smart networking contribute to climate protection? Or is the key to conserving resources digital renunciation? To this end, students will discuss with Daniela Kolbe (Chairwoman of the Enquete Commission for Artificial Intelligence) and others,
Ricarda Lang (Federal spokeswoman of the GREEN YOUTH) and Daniel Erdmann (Economic Initiative Smart Living and Central Association of the German Electrical and Information Technology Trades [ZVEH]). The discussion will be moderated by Katie Gallus at Stand 205, Hall 26A on Friday, 06 September 2019, 14:00 to 14:45.
German suppliers in front
According to a representative survey conducted by the Smart Living business initiative at the IFA in Berlin, the majority of people in Germany (55.8 percent) prefer smart living applications from a German provider to offers from American or Chinese providers, for example. This was the result of a representative online survey conducted by the Smart Living business initiative (conducted by GfK). 27.5 percent of respondents were undecided on this question.
The reasons for the preference of German smart living providers are manifold: 52.2 percent of those surveyed see better protection for their personal data, 62.7 percent consider the better help provided by locally available experts to be an advantage, and two-thirds see higher service quality if something does not work. "These values correspond exactly to the experiences that our craftsmen make day after day in the exchange with the customers. In the Smart Living sector, 'Made in Germany' is considered a quality feature in many respects," explains Lothar Hellmann, President of the Central Association of German Electrical and Information Technology Trades (ZVEH), one of the founding members of the business initiative.
The most popular applications are networked entertainment, smart lighting, intelligent heating control and the smart kitchen. Particularly active smart living users are the 18- to 39-year-olds with 47.7 percent in this age group. "Smart Living also offers enormous advantages for older people in particular," says Michael Schidlack, spokesman for the Smart Living business initiative.
House of Smart Living
At IFA, the House of Smart-Living offers a comprehensive insight into smart living and illustrates how digitization and artificial intelligence (AI) can improve everyday life. It presents intelligently networked building technology, which was supplemented with the latest innovations especially for IFA 2019. Voice assistance systems are integrated into the building technology – as are other systems that actively support people's lives, for example in health applications or energy management in the home.
In the Smart Home, for example, AI can be used to monitor the breathing air of a person suffering from diabetes and, if necessary, trigger alarms and the emergency chain. With a view to demographic change, AI also enables people to lead a self-determined life in their own homes in old age. By using artificial intelligence, it is also possible to use energy efficiently in one's own building and automatically stabilize the power grid.
"Artificial intelligence will play a decisive role in the further development of Smart Living into a mega-ecosystem. AI will make the individual applications even more seamlessly interlinked in the future," says industry expert Schidlack.
We are the robots
Robots are another trend that will be a focal point of the future at this year's IFA. According to expert opinion, domestic helpers are among the upcoming products that users can look forward to. Because no matter how "intelligent" an AI system may be, in many cases the human being is still needed as an interface for the execution of actions. An intelligent microwave, for example, can know at which time an owner prefers to eat dinner and which ready meal. In this scenario, however, a person is still needed to fetch the dish from the freezer and place it in the microwave.
Suction and wiping robots are also becoming more and more popular, as they can relieve their owners of tedious housework. At IFA 2019, various manufacturers will be presenting new devices. Numerous robots are Google Assistant and Alexa compatible and also master the IFTTT standard, via which they can be linked to other smart home apps. In addition to new window cleaning robots, lawn mower robots are also enjoying growing popularity.
Picture and sound
For TV manufacturers, UHD televisions are now just as standard as active "High Dynamic Range Image Improvement" (HDR). This involves transmitting image information about scenes to the television, which uses this information to optimize the picture so that the picture is as close as possible to the original. While last year the 55 inch TV size was considered standard, falling prices are now ensuring that 65 inch Smart TVs occupy this space in the living room.
A well-known manufacturer is presenting its latest OLED technology at IFA 2019. The highlight is a prototype with a transparent screen. The highlight: If the TV is switched off, there is no black display area in the shelf wall compared to a traditional TV. The Smart TV, on the other hand, appears like a wooden showcase with an embedded glass pane.
Other renowned manufacturers are opting for more app variety in new models and are using Android TV Pie (9) as the operating system. The TVs come with the integrated language assistants Google Assistant and Works-with-Alexa.
But networking has also become indispensable in the audio sector. Music streaming services such as Amazon Music Unlimited, Spotify and YouTube Music (among others) make the CD collection obsolete. Voice control via Alexa, Cortana, Google Assistant and Siri will in future be just as much a part of good audio as multi-room music, in which loudspeakers throughout the house can join together to form groups and synchronise music playback.
Smart ZZzzzzzz…
Another trend is the introduction of smart technology into bed. In the future, we should also be able to network and sleep smart. For example, one of the exhibitors will be presenting a "Smart Sleep" headband. Its sensors measure brain waves, recognize deep sleep phases and are supposed to be able to extend them with audio signals. A Dutch start-up company has developed a "sleep robot". Actually, it is a pillow that is embraced like a cuddly toy for adults. It uses sensors to detect the respiratory frequency; in the same rhythm it expands slightly and contracts. It becomes slower and slower and should help you to fall asleep through this simulated breathing.
The IFA is organized by gfu Consumer & Home Electronics GmbH in cooperation with Messe Berlin. The IFA is open daily from 6 to 11 September 2019 from 10 a.m. to 6 p.m. Trade visitors will be admitted to the International Trade Visitor Reception from 8 a.m. onwards.
---
You may also like