Smart Buildings: With IoT to intelligent, environmentally friendly buildings
Posted On 25th April 2019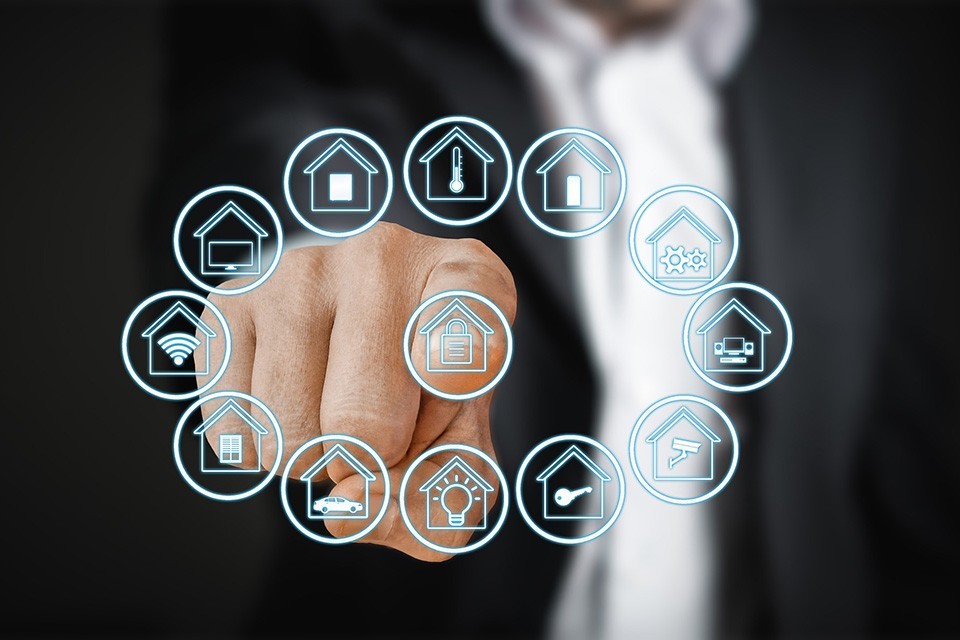 Man has long since ceased to be the dominant species on the Internet (of things) – networked devices and machines occupy the top position with over eleven billion units. More than 20 billion are forecast by 2020 – two thirds of which will then be operated in private households.
A large proportion of these networked devices (currently over 30 percent are forecast) will be used in smart homes and smart buildings in the near future for building, housing and energy management. According to forecasts by Gartner (CAGR 2019-2023), sales growth rates of over 20 percent can be expected in these business segments.
(Gartner, officially known as Gartner, Inc. is a global research and advisory firm providing insights, advice, and tools for leaders in IT, Finance, HR, Customer Service and Support, Legal and Compliance, Marketing, Sales, and Supply Chain functions across the world. They are a member of the S&P 500. Its headquarters are in Stamford, Connecticut, United States. The firm changed its name from Gartner Group, Inc to Gartner in 2000. – Source: Wikipedia)
Smart Buildings: Win-Win-Win
All parties involved – users, owners/operators – and the environment benefit from the increasing upgrading of real estate and its energy and heat supply to smart buildings, also taking into account the production of the equipment used.
Not even every fifth building in Germany is currently up to date, although smart buildings can control energy consumption in a very differentiated way if all relevant data is recorded, converted and used promptly via appropriate sensors (meters and sensors) – even wind and solar energy that is available irregularly on site can now be included and compensated for.
Digital recording and processing of such operating data in real time also enables other functions, such as efficient maintenance and additional information services. (Such a system can, for example, report via app, mail or other means if lifts or heating systems fail or something similar happens.)
Considering that approx. 40 percent of the primary energy consumed in building management is primarily used to generate heat, there is great potential for savings by converting or upgrading old technology to modern equipment.
According to expert opinions, around 30 percent of heating costs can be saved by optimising ongoing operation alone. Digitalisation of the heating systems (digital heating cellar) would add an additional savings potential of between 14 and 26 percent.
"With their innovations, the companies are making an important contribution to making the energy-intensive real estate sector more sustainable. They demonstrate the economic potential of the energy revolution. […]" – Christian Rickerts (State Secretary Senate Berlin; Economy, Energy)
"Piaf" – the climate sparrow
In addition to such improvements by upgrading buildings, the Internet of Things also offers new possibilities and potential savings in direct interaction with people within a property.
Recently, a climate protection and research project (the "EE-Office") was successfully completed by KlimaExpo.NRW and the state government of NRW, focusing on the user behaviour of the employees of the district court in Bonn.
In cooperation with the EBZ Business School – University of Applied Sciences and the Wuppertal Institute for Climate, Environment and Energy, small devices with assistant functions for energy saving were tested for their suitability for everyday use. IoT sensors were installed in 67 offices to measure air temperature, humidity and CO2 concentration.
In addition, prototypes of assistance hardware – Piaf, the "Climate Patz" – were installed at the workplaces of the employees involved. These devices used a circular LED display with red and green light to indicate to the users that the temperature or CO2 concentration was too high, thus alerting them to open windows – and close them again in good time.
The CO2 content should thus be kept between 750 and 1450ppm (parts per million), as too long ventilation is bad for energy efficiency, insufficient ventilation is bad for performance at the workplace.
"The current concepts of building automation have not recognised and implemented the potential of a user-centred management system, or have done so only inadequately. Without an intensive dialogue with the building users, the interaction between system technology, building management and user behaviour cannot be organised in the sense of high energy efficiency". – Prof. Dr. Viktor Grinewitschus – EBZ Business School
The results of the measurements showed significant improvements in the offices with assistance compared to those where no assistance systems were used: With assistance, the values were within the recommended range. Estimates suggest that energy consumption in (public) buildings can be reduced by up to 40 percent through energy-saving user behaviour and the use of modern heating systems.
"Everyday routines and behaviour patterns of the users of a public building such as employees, facility management and building services have a significant influence on the operation of the building. This needs to be looked at more closely against the background of energy efficiency. There's still a lot of air up there – energy savings of up to 20 percent are possible." – Dr. Carolin Baedeker – Wuppertal Institute
Such technology, used in smart buildings with the appropriate equipment, not only leads to more pleasant and healthier (working) environments; it can also make a significant contribution to significantly reducing consumption and operating costs and protecting the environment.
---
You may also like