Smart technology for old machinery: the challenge of retrofitting a factory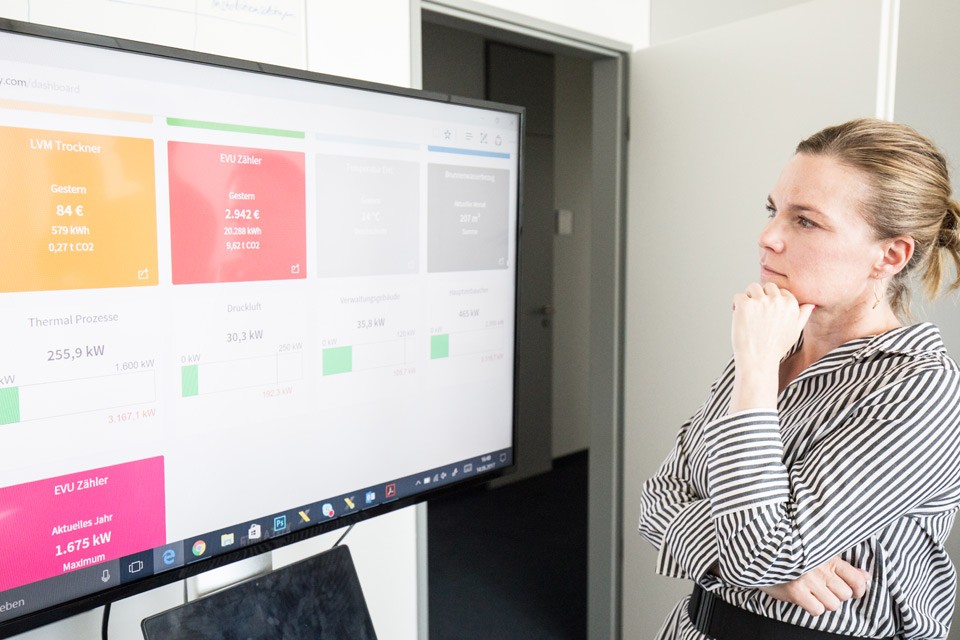 Monitoring machinery in a factory environment with Innogy bit.B.
Photo: Dennis Knake/Lemonbeat GmbH
Energy efficiency and optimal production processes are key success factors especially for small and medium-sized companies. However, unlike IT-systems, industrial machines cannot be exchanged every few years to keep up with state of the art production. At many companies, these machines are often decades old. 20 or 30 year equipment is not uncommon. So how can they keep up with today's need for increased efficiency? What can companies do, to identify and eradicate problems, thus making the output more efficient? "Retrofitting" is the term summing up the answer. Equipping old machines with new sensors. However, that's easier said than done.
Machines retrofitted with sensors can deliver all kinds of crucial information: Be it the actual power consumption, the speed of the production process like units per hour or values like the actual temperature or moisture of certain areas. They can be used to measure actual filling levels and therefore help optimizing the refill process. They can detect the tiniest vibrations, uncovering early signs of mechanical problems in machine parts and therefore assisting in optimizing the maintenance process.
After figuring out, what kind of data should be collected and where the different sensors have to be attached to get that data, comes the tricky part: There are quite a number of different sensors on the market. Some of them are wired, some already offer built-in wireless functionality. The problem is: wireless sensors are usually more expensive and the type of wireless technology used can have a huge bearing on how reliable it will work within the surrounding machinery and infrastructure. Take common Wi-Fi technology for example, it offers huge bandwidths, but comes with the cost of a relatively short range. Additionally, if installed in a machinery environment, metal or walls could easily block or reduce the signal. To avoid this, usually a complex installation is needed with additional repeaters, making sure the signal reaches its destination. As more hardware is connected, the installation not only starts to become more complex and costly, it also begins to be more vulnerable for glitches.
When thinking about retrofitting machinery, the question of how the data from each sensor reaches its destination comes second right after how sensors should be attached to deliver reliable data. So, if Wi-Fi sounds too complex, is hard wiring easier? Attaching dozens of sensors all over one or more machines and wiring them all to one central point can be even more difficult and costly. Plus, it's not always possible to lead wires throughout the whole factory.
Wired or wireless: How about the best of everything?
Bit.B, a recently launched solution from Innogy SE, an energy company based in Essen, Germany, is especially designed for SMEs (small to medium-sized enterprises) to retrofit their machines at managable costs. First and foremost, bit.B is a platform that offers live monitoring of the actual production process and all connected sensors around it. Energy consumption, production output, the actual state of machines, doors, valves, etc. All this data is collected and displayed in near real time on a web based dashboard, that can be individually configured. If there is an issue, for example a value outside of normal parameters, the system immediately shows this and informs the responsible person via email or SMS so that immediate measures can be taken.
On the hardware side, bit.B offers so called nodes, that communicate with a gateway. The nodes are little black boxes that offer wired connectivity for up to six customary sensors.  A node will be placed close to the sensors so that long wiring from sensors to the node can be avoided. The node itself collects the data and sends it wireless to a gateway. For the radio technology, bit.B decided to use Lemonbeat Radio, a robust Sub-GHz technology on the 868 MHz Band with long range capabilities and thanks to a patented frequency hopping technology more bandwidth than common 868-Mhz solutions. The gateway is ideally placed on the ceiling of the hall. It collects data from all installed nodes and delivers them via GSM directly to the bit.B platform. When more than six sensors are needed, another node can be put in place close to the next set of sensors. While Lemonbeat Radio might not offer as much bandwidth as classic Wi-Fi, it has proven to be a very robust and reliable technology in a factory environment. Since the sensors usually deliver simple values, range is more important than bandwidth.
Bit.B offers a compromise between wiring the whole setup or the opposite way and going down the WiFi-road. Both methods have their pros and cons. Bit.B with its half wired, half radio-solution minimizes cons like complexity and costs and emphasizes the pros like reliability and easy installation.
---
You may also like