Start Up Energy Transition Award – new business models for climate protection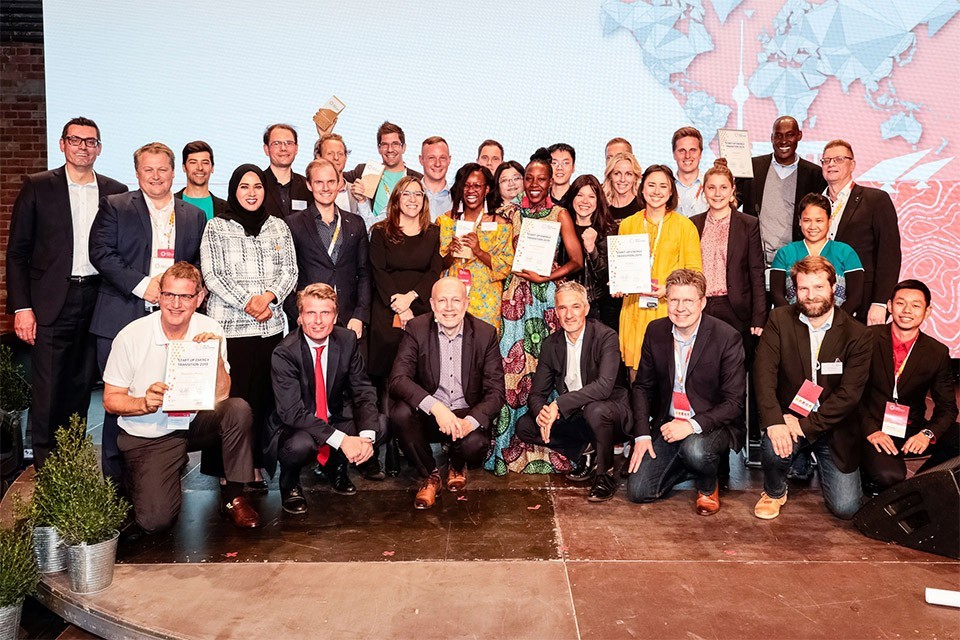 Photo: SET -
Start Up Energy Transition Award 2019
15 StartUps from Europe, Australia, China, Thailand, Uganda and the USA made it to the final of the "Start Up Energy Transition Award" 2019. Whether autonomous electric trucks, organic solar cells or energy data management with blockchain: the finalists offer future-oriented solutions from all areas of power generation and supply.
The SET (Start Up Energy Transition) Award 2019 and the Tech Festival are part of the global SET initiative for pioneers in energy system transformation and climate protection. More than 100 partners from politics, business, science and non-governmental organisations from all over the world participate in the initiative. In the current round, the competition is supported by the partner countries Canada and Sweden, the Federal Ministry of Economics and Technology and many other partners and sponsors.
The finalists offer future-oriented solutions from all areas of energy generation and supply. The award was presented by the German Energy Agency (dena) in cooperation with the World Energy Council. It went to the companies with the most innovative and effective business ideas for energy system transformation and climate protection – selected from a total of 450 applications from 80 countries. The finalists presented their projects at the SET Tech Festival in Berlin. An international event for start-ups, established energy companies and investors.
And the winners are…
From the 450 applicants, the jury selected the winners of the international SET Award 2019 for the most innovative and effective business models in the fields of energy system transformation and climate protection: Enapter (Germany) in the category Low-Carbon Energy Production; Planet Ark Power (Australia) in the category Intelligent Grids, Platforms & Cyber Security; Blixt (Sweden) in the category Energy Efficiency, Smart Devices & Storage; Bodawerk (Uganda) in the category Innovative Mobility and Divine Bamboo (Uganda) in the category Special Prize: Quality Access & SDG7.
The winners also included all the other finalists, who presented great concepts, fresh ideas and new business models.
The finalists of the SET Award 2019
Category 1: Low-emission energy production
– Enapter, Germany, www.enapter.com
Enapter develops and produces highly efficient modular hydrogen generators. The central element is an electrolysis plant with an anion exchange membrane (AEM), which enables safe, flexible and efficient production of hydrogen gas.
– Epishine, Sweden, www.epishine.com
Epishine develops and markets the third generation of solar cells. These are semitransparent, lightweight and 100 percent organic, resulting in very high resource efficiency. The business model also aims to use interior lighting and reduce the need for batteries.
– Roofit.solar, Estonia, www.roofit.solar
Roofit.solar modules are photovoltaic components that can replace conventional roof and facade materials. The modules consist of sheet metal covered with a thin photovoltaic layer.
Category 2: Intelligent Networks, Platforms and Cyber Security
– Envelio, Germany, www.envelio.de
Envelio offers distribution network operators a software solution, the Intelligent Grid Platform, to automatically plan and manage power grids in the digital age. The aim is to contribute to a cost-efficient energy turnaround.
– FlexiDAO, Spain, www.flexidao.com
FlexiDAO builds a software platform that enables energy traders to manage energy data using blockchain technology. This enables new intelligent energy services to be provided.
– Planet Ark Power, Australia, www.planetarkpower.com
Planet Ark Power helps companies and organizations reduce their electricity costs and move to a sustainable energy supply. The supply from the power grid will be replaced by clean solar power, battery storage and micro grid technologies.
Category 3: Energy Efficiency, Smart Devices and Storage
– BLIXT, Sweden, https://blixt.tech/
Blixt develops miniature circuit breakers that enable numerous smart metering and smart grid solutions. These fuses have the potential to accelerate the transition to sustainable, all-electric technologies in areas such as energy, mobility and industry 4.0.
– EcoSync, England, www.ecosync.energy
EcoSync has developed an intelligent temperature control system for buildings that processes information from various building technologies. The system aims to heat only those rooms that are actually used.
– EQuota energy, China, www.equotaenergy.com/
EQuota Energy offers intelligent energy management services based on digitization and artificial intelligence. The solutions cover all process steps of the customers, from the
Category 4: Innovative mobility
– Bodawerk, Uganda, www.bodawerk.com
Bodawerk develops solutions for sustainable electromobility in East Africa, based on the most widely used means of transport there: the Boda Boda (motorcycle). Bodawerk manufactures new E-Bodas and converts used petrol-powered motorcycles to electric drive.
– Einride, Sweden, www.einride.tech
Einride offers transport services with fully electric and automated moving trucks. The T-Pod reaches the second highest of six autonomy levels (SAE 4) and does not require a driver's cab, but can be remote-controlled if required.
– Parking Energy, Finland, www.parkingenergy.com
Parking Energy has developed an open platform for charging electric cars. It provides every parking space in a building with a standardized power connection that can be combined with various charging technologies for electric cars.
Category 5: Special Award: Energy Access and UN Sustainability Goal 7
– Divine Bamboo, Uganda, www.divinebamboo.com
Divine Bamboo is a social enterprise that operates and promotes the cultivation of fast-growing local bamboo for the sale and production of clean charcoal and briquettes. The goal is to make sustainable bioenergy accessible and stop deforestation.
– OffGridBox, USA, www.offgridbox.com
OffGridBox has developed a compact and grid-independent system that can provide renewable electricity and clean water using solar energy. The technology can be a solution for more than two billion people worldwide living in remote rural areas.
– SunSawang, Thailand, www.sunsawang.co.th
SunSawang is a social enterprise that brings solar energy to Thailand's rural areas bordering Myanmar. The company offers small solar modules and lighting technology and supports people in the villages by hiring and training technicians and vendors.
Christoph Frei, Secretary General of the World Energy Council said:
"The Start Up Energy Transition Award 2019 illustrates the depth of experience, commitment and vision that drives the innovators who will change the future of energy. All finalists should be proud of their achievements and the winners have a bright future ahead of them".
The Start Up Energy Transition Award is an international competition for startups and young companies worldwide working on ideas for global energy change and climate change. Over the past two years, around 1000 applications have been received from 88 countries. We are looking forward to the Start Up Energy Transition Award 2020 and the innovations that await us and the IoT.
---
You may also like