The German Cloud
Posted On 29th October 2019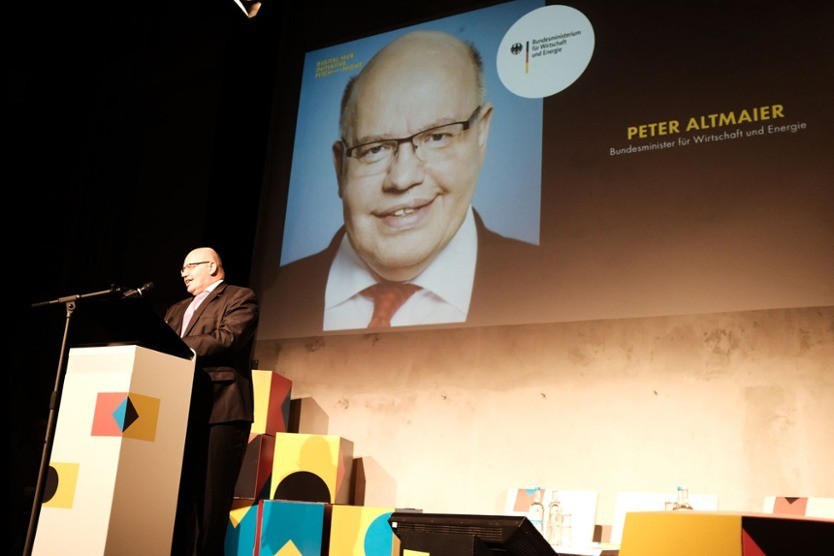 Archive photo: On 21 March 2018, Federal Economics Minister Peter Altmaier opened the first Pitch Night of the BMWi's Digital Hub Initiative.
© RCKT, BMWi
Every time the political elite meets for the digital summit, formerly the "national IT summit", we hear the usual phrases. Talking about the emancipation of large American corporations, about the "German Cloud", the necessary broadband expansion. This is all correct and important. But let's be honest, usually it is not more than buzzword bingo, the desire to distinquish oneself. But reality is different.
So, no German Cloud after all? Why so negative? Isn't it important that we do more for data protection? It's been six years since the NSA scandal, the large-scale bugging campaign by the American secret service and even the Chancellor's telephone became public. It is about time, one might think. Because back then it wasn't just about political espionage, industrial espionage was also a big deal. And still is. The outcry was great, but then only short-lived. So let's continue with Business-as-Usual? Not quite.
European data protection vs. Cloud Act
In the following years, the large cloud providers did not tire of emphasizing that they also operate data centers in Germany and Europe. Companies were thus able to determine that their data would not be stored somewhere on computers "overseas". The whole thing has only one catch: American companies, even if they operate data centers in Europe, have to release data at the request of the US government. The "Cloud Act" (Clarifying Law-ful Overseas Use of Data Act) passed by the US Congress in 2018, which invalidates the European DSGVO guidelines, contributes to this. And solutions designed to protect against government access have proven impracticable in the past due to their architecture.
At the Digital Summit in Dortmund, Federal Economics Minister Altmaier presented "Gaia X" with great press hype. A concept that provides the decentralized storage of data within European borders and is to be supported by large corporations such as Siemens, Telekom and also medium-sized companies. The media applauded it as "German Cloud" or "European Cloud".
The state-imposed German Cloud
Seriously? The answer to Microsoft Azure, Amazon AWS or Google is supposed to be a state-imposed German Cloud, which has to be built from scratch first? How many years will it take until there is a competitive product available?
Forgive me if I only again expect that a few large companies, which are not exactly known for their agility and speed, will absorb state subsidies. For a couple of years, they will be tinkering with a cloud solution that is probably far too bulky, but in the end won't be able to compete with the ease of use of their US competitors. At some point the money will be gone and we won't hear about it anymore. Daily business has to move on and the companies end up back with the international providers who simply can do better.
Good products are not the result of wishful thinking
Don't get me wrong: I would love to see a European "cloud superstar". But politics cannot create such a product out of nothing by dictum. The broadband expansion that has been repeatedly cited in this context does not help here either. That is, of course, right and important. But it will not help us with a German Cloud. The large US corporations have long been market leaders in Germany. This happened not due to broadband expansion, but simply to good products that are also closely linked to the devices we use every day, such as smartphones and PCs.
If politicians want to ensure that our data in Germany and Europe is secure or that young, innovative companies have a chance, then the appropriate political framework must be created. We in Germany are not exactly known for welcoming technological innovations with open arms. Scepticism and (over)regulation have already stifled many projects before they could even be launched…
---