5G is coming: Ericsson Mobility Report 2018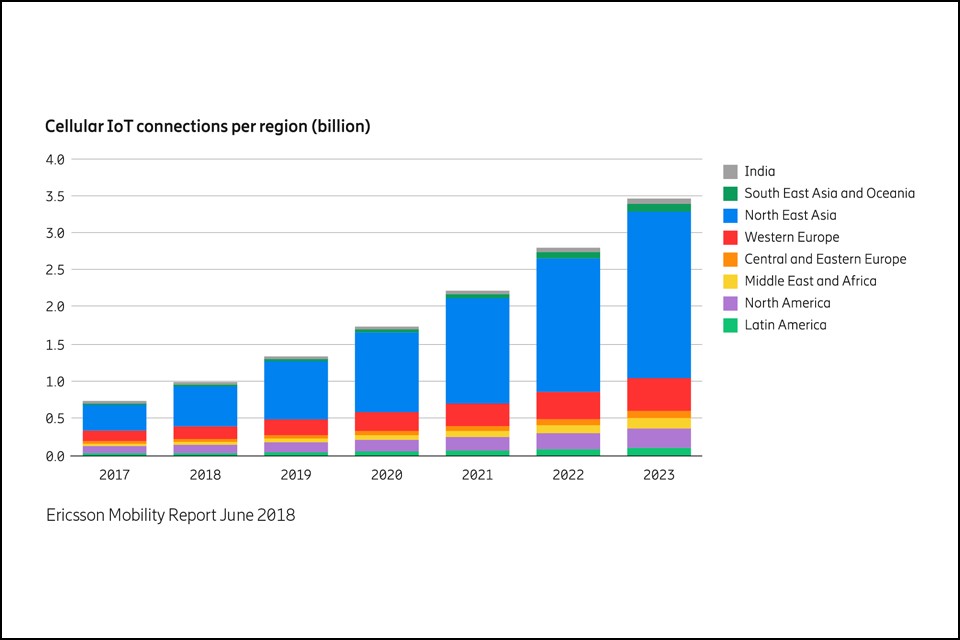 Following this year's Cebit, the Swedish telecommunications company Ericsson published their latest Mobility Report.
According to Ericsson's research team, developments in 5G and Internet of Thing (IoT) are accelerating and exceeding expectations.
Experts estimate that 3.5 billion IoT mobile communications will be available worldwide in 2023 – the forecast has almost doubled since November 2017. According to the forecast, at least 20 percent of global mobile data traffic will take place in 5G networks in 2023.
(5G – 5th generation mobile network: Next Generation Mobile Networks (NGMN for short) is an ongoing project of mobile phone companies and mobile phone suppliers for the development of the next mobile phone generation. The generations implemented as of 2015 are UMTS (3G) and LTE (4G). The project deals with "4G" (fourth generation) LTE-Advanced (LTE+) and "5G", the fifth generation. – Source: Wikipedia)
The commercial launch of 5G networks is expected in 2018 – North America is expected to lead by 2023, followed by Northeast Asia and Western Europe.
"A milestone for this development will be the commercial launch of 5G at the end of 2018. "We're looking at North America, Northeast Asia and Western Europe." – Olaf Reus (Initiative D21 / Ericsson GmbH)
Ericsson also demonstrated examples of the new 5G mobile phone technology during its Innovation Day in Aachen at the end of June 2018. Among other things, Ericsson presented numerous 5G applications for consumers and industry 4.0. These included virtual jam sessions in which musicians played together at different locations at a (simulated) distance of 1,400 kilometres; application examples for material transport 4.0 and practical examples for the networking of services and other services in Smart Cities.
In addition, successful tests of the CAT M1 (CAT M1 is a technology that requires low power consumption and, in contrast to narrowband IoT, also offers voice and handover functions) have recently been carried out on the Autobahn 9 in the state of Bavaria in the 5G network. The test focused on the mobility of networked vehicles.
The Ericsson Mobility Report is designed to provide forecasts and analysis of the latest trends in the mobile industry. The forecasts are based on past and current data validated with extensive network measurements.
For more information on the Ericsson Mobility Report, please visit: https://www.ericsson.com/en/mobility-report
---
You may also like