I(o)T Vulnerability Management for Small Businesses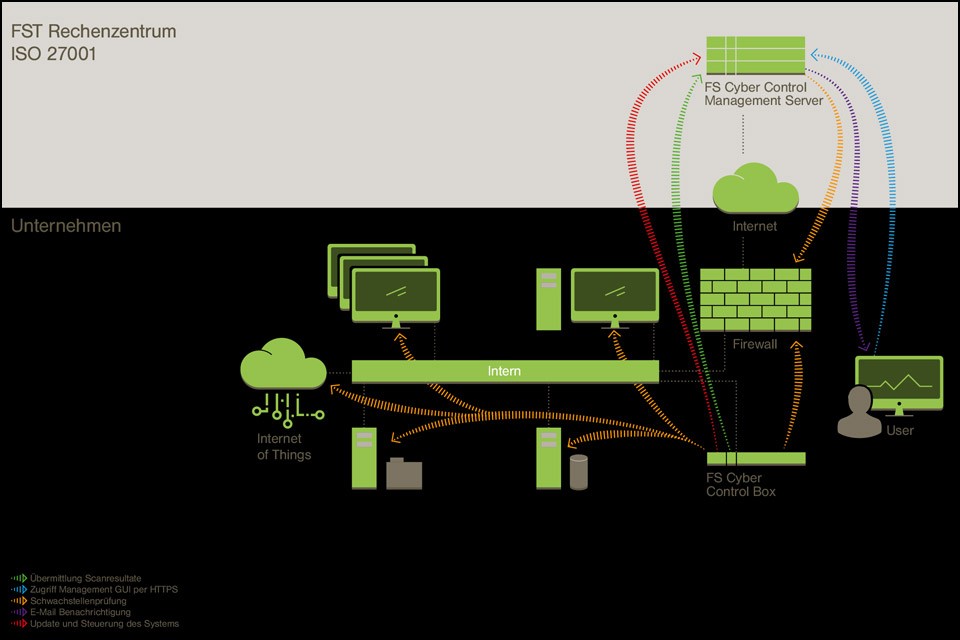 Picture: FST AG -
Vulnerability Management
IT vulnerability management is one of the most important – but also most frequently neglected – topics in I(o)T security. Reports of damaging attacks on companies are increasing exponentially with the development of new software, IT and IoT technology.
The attackers do not distinguish between global corporations or other "rich prey", private individuals and small businesses are also attacked equally. If the damage to private individuals is usually within material limits, a successful attack on a small company – for example, if communication with the customer stands still; or even an element in the production chain – can cause considerable damage.
However, smaller companies often lack the necessary qualifications to protect their I(o)T infrastructure with freely available vulnerability management software such as OpenVAS, away from simple virus scanners.
(OpenVAS (Open Vulnerability Assessment System, originally known as GNessUs) is a software framework of several services and tools offering vulnerability scanning and vulnerability management.
All OpenVAS products are free software, and most components are licensed under the GNU General Public License (GPL). Plugins for OpenVAS are written in the Nessus Attack Scripting Language, NASL. – Source: Wikipedia)
205 days to uncover targeted attacks
The Swiss company First Security Technology AG wants to close this gap with a cyber security solution specially developed for small companies.
"In recent years we have increasingly noticed that small businesses were unaware of the danger of cybercrime. Often they thought they were too small to be attacked anyway until there was an unpleasant awakening. The need for more IT security in SMEs (small and medium-sized enterprises) led to a very strong demand for first security". – Pascal Mittner, (CEO First Security Technology)
The company already offers a comprehensive vulnerability solution for medium and large enterprises. With the optimized "FS Cyber Control" solution, the Swiss company wants to meet the needs of smaller companies with 10 to 50 employees, most of whom have a lower budget and knowledge of IT security.
FS Cyber Control" is designed to protect the IT infrastructure from unauthorized access by identifying and collecting vulnerabilities. The examination of the internal IT network and the external access from the Internet is carried out regularly, comprehensively and fully automatically. The resulting reports are easy to understand for all recipients, regardless of business level and IT knowledge, so that the right measures can be taken quickly to minimize risks and damages.
Further information about FST's vulnerability management solution can be found at the URL: https://www.first-security.com/loesungen/first-security-cyber-control/
---
You may also like