CeBIT 2018: the I(o)T trade fair carnival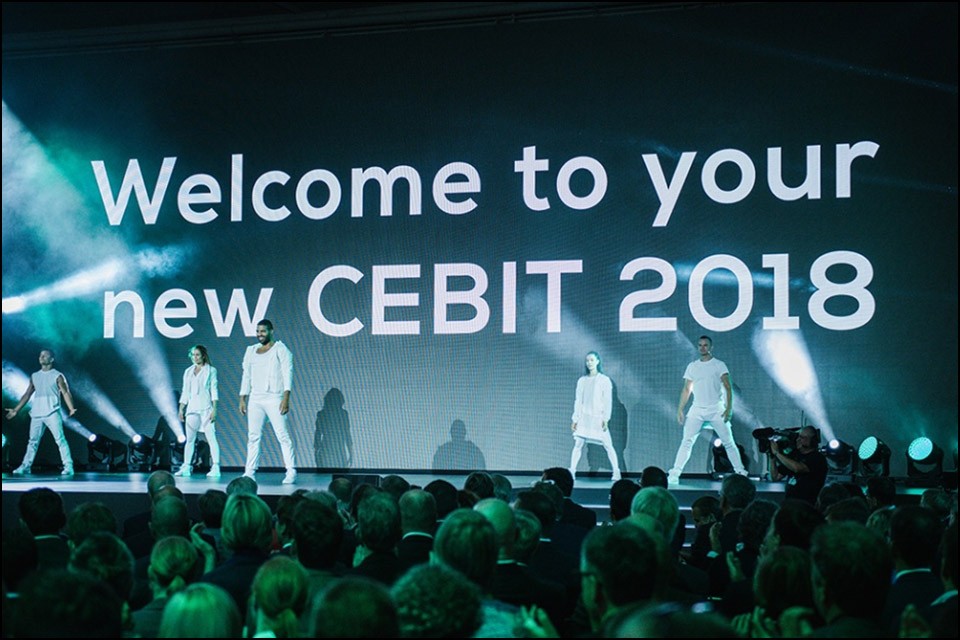 Picture: Messe AG/CeBIT
CeBIT 2018
CeBIT 2018 – from the nerdy, luggy indoor exhibition in 1986 to "Europe's Business Festival for Innovation and Digitisation" in 2018.
Not only the date of this year's fair in Hanover (formerly March – now June) has changed compared to previous years. The supporting programme and additional offers are also intended to give the event new impetus. Drone races, science slams, conferences and lectures – but also DJs and live bands like Mando Diao and Jan Delay will make the event more attractive.
Whether this can be achieved simply by attracting hype tourists remains to be seen – but the organiser, Messe AG, is optimistic:
"There is no other place in the world to distinguish between private visitors and trade visitors." – Oliver Frese, Deutsche Messe AG
Last year, around 3,000 exhibitors gathered at Cebit, this year there were "only" 2,800, including of course numerous IoT providers; some of them can be found in Hall 13, the "Cebit IoT hotspot":
For example, Italian technology provider Eurotech, which will present a broad overview of its hardware and software solutions for M2M and IoT device middleware and cloud solutions at the fair, including M2M/IoT gateways that connect devices, sensors and actuators to the cloud in the field, where the data is collected and evaluated.
The Fraunhofer Institute for Applied Information Technology (FIT) is presenting the intelligent platform "TeLiFIT" for telemedical applications at CeBIT, which automatically analyses and processes measured values transmitted via mobile device. On the subject of IoT security, the Fraunhofer researchers are presenting an "Industrial Data Space", which is intended to give companies the opportunity to set up a secure network of trust for their data.
ZTE (telecommunications systems, network solutions and mobile terminals) is presenting various applications for e-health, smart education and smart transportation – as well as an "Urban Data Operation System" for secure smart city applications at CeBIT.
With the recent launch of OnCumulus, Voith Digital Solutions, a subsidiary of the Voith Group, wants to enable manufacturing companies to benefit from an IIoT platform that will offer special visualization and analysis functions and already allow the first industry-proven applications. With OnCumulus, users should be able to access and work with data from all systems across the enterprise and across all facilities.
With the VR Dome, Vodafone GmbH not only offers trade fair visitors a virtual journey through all stages of industrial revolutions – from early industrialisation to Industry 4.0 – to demonstrate how the Internet of Things could revolutionise our industrial halls – with the control centre of a construction crane on the "d!campus" of the exhibition grounds, control of and work/act with the device 300 kilometres away can be taken over.
Software AG is also present at CeBIT displaying several IoT showcases. The focus is on Smart Energy (intelligent power grids), Smart City (waste disposal and lighting management) and Smart Manufacturing (networking of industrial plants).
Hewlett Packard Enterprise wants to demonstrate how intelligent systems can create the added value of the future. These include, for example, production machines that repair themselves and networked things that should be able to recognize hackers by their behavior.
Further information about CeBIT 2018: https://www.cebit.de/en/about-cebit/
---
You may also like