Crowdfunding tablet for the IoT
Posted On 16th April 2018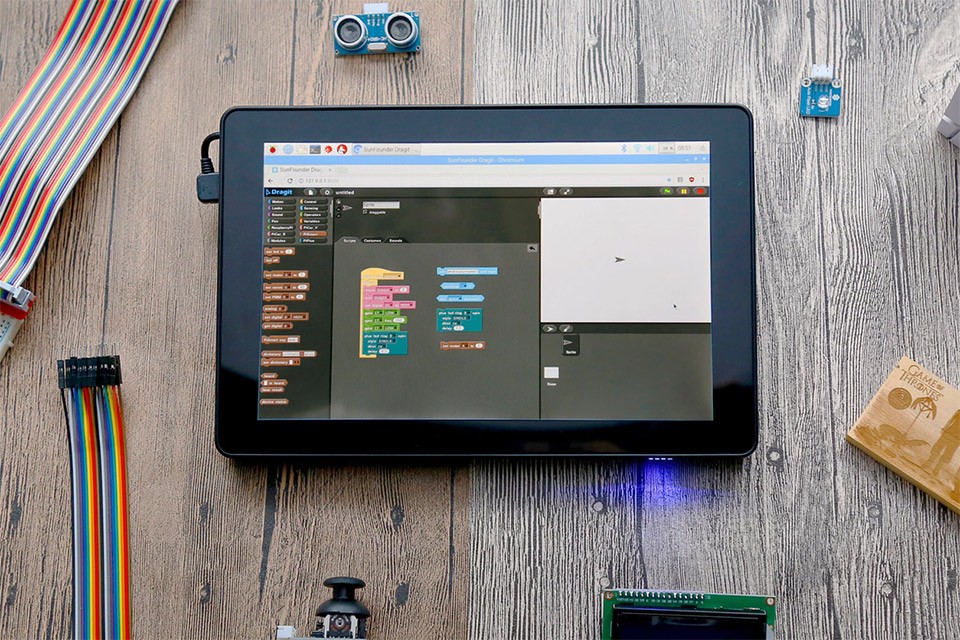 Picture: Kickstarter/ab
RasPad
Based on Rasperry Pi, SunFounder recently presented the RasPad Tablet – a crowdfunding project for a tablet computer with IoT focus on the Indiegogo funding platform.
With almost 650,000 US dollars in advance financing for the project, a record sum was achieved on 04.04.2018 – the actual financing target was thus exceeded by as much as 6110 percent.
The target group of the tablet are creative people and developers – from beginners to professionals. The tablet computer is primarily intended as a development platform for projects in the fields of Internet of Things (IoT), artificial intelligence (AI), remote control and prototyping.
The device has a 10.1-inch IPS display, HDMI, USB (2.0), internal stereo speakers with 2 watts of power – and in addition to mains operation, mobile operation with exchangeable batteries is also possible. Under the hood of the prototype you'll find the new Raspberry Pi 3B+ (also included).
To enable beginners to develop and program their own IoT/projects with the RasPad Tablet, SunFounder even offers a visual "Drag & Drop" programming language with which the device and the connected periphery can be used.
The "Sensor Kit" is particularly comprehensive. In addition to barometers, potentiometers, flame, gas, sound, inclination and vibration sensors, over 20 other sensors are available. In addition to processing/using the measurement data on the tablet itself, LED, LCD, laser and buzzer modules are also available for outputting the data received.
At the highest "Pledge" level (pre-financing contribution) the RasPad Kit is delivered with one uArm Open Source Robot Arm. The uArm is currently the most popular robot arm among enthusiasts and developers, which can be used for simple automated tasks such as picking up and dropping objects – but also for 3D printing, laser engraving, writing tasks, etc… Also included in this package is the OpenMV Vision Camera Kit – which significantly enhances the precision and capabilities of the uArm – but also of the RasPad Tablet.
A great crowdfinder that could inspire many interesting new or further developments.
---
You may also like