Future market Smart Living – Minister of Economics Altmaier optimistic
Posted On 4th February 2019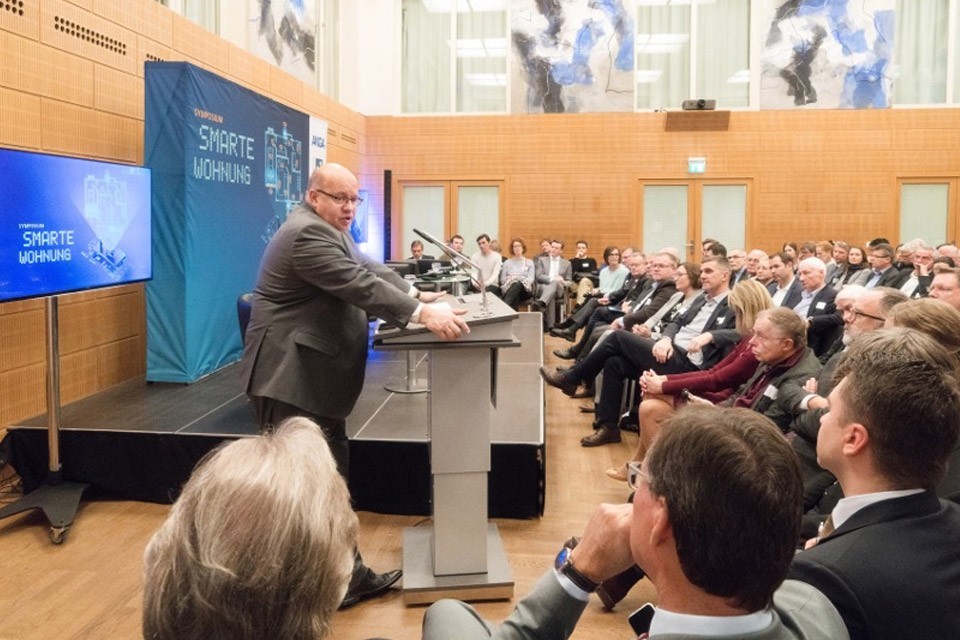 Photo: ANGA/Beatrice Staib -
Peter Altmaier - Smart Living
In mid-January 2019, the Association of German Cable Network Operators (ANGA) and the Housing Industry Association (GdW) jointly hosted a symposium on the topic of "Smart Living".
The potential of digital applications for tenants, landlords, infrastructure providers and manufacturers in the housing industry was to be demonstrated and discussed at the event on 16 January 2019 in Berlin. Peter Altmaier, Federal Minister of Economics/Energy, gave the keynote speech of the event on the future market Smart Living.
Mega-ecosystem of the future
Altmaier, who is rather conservative and backward when it comes to energy policy, expressed a lot of optimism in his speech regarding the future development of the market and even described digitisation in the housing industry as the "mega-ecosystem of the future":
"The intelligent living environment at home means more comfort, energy efficiency, safety, health and assistance. The goal must be for Germany to establish itself as the leading market for Smart Living in the face of international competition. The 'Smart Living' business initiative offers a unique European and international cooperation platform for the necessary cross-sector cooperation between manufacturers, the housing industry, craftsmen and many other players."
[Smart Living is an initiative of the Federal Ministry of Economics and Energy. The aim of the economic initiative is the joint action of German companies to accelerate the transfer of innovations into the market, to remove existing barriers and to develop sustainable market strategies.]
Altmaier's view, however, does not coincide with current findings from, for example, the survey conducted by the Bundesverband Freier Immobilien- und Wohnungsunternehmen (BFW). Dr. Thomas Götzen, member of the BFW Digitisation Advisory Board, warns:
"Digitisation in buildings does not currently play a major role. If that's true, then it's a debacle for our member companies!"
In fact, most companies still lack the fundamentals to participate in the digital housing industry. Hesitant or neglected investments, a lack of time and a lack of personnel continue to slow down the development, because 70 percent of the administrators and portfolio owners as well as 56 percent of the property developers and project developers do not believe, according to BFW, that new business fields will open up as a result of digitization.
Smart Living
However, Altmaier did not share such concerns. In his remarks, he followed forecasts that there will be annual growth rates of 25 to 30 percent in the Smart Living market segment over the next few years.
Sales expectations up to the year 2025 for Germany alone are in the double-digit billion range; worldwide sales are over 260 billion euros. It is crucial for German manufacturers and suppliers to profit from this future market and to gain important value-added shares.
The fact is that the market offers enormous potential – not only in the area of home solutions for private customers, but especially in the management of residential and commercial real estate. However, this also requires the courage to set out and to invest – as GdW President Axel Gedaschko also acknowledged:
"The current GdW residential trends show that we need new business models and cooperations. The decisive factor is that a large part of the added value associated with digitization will remain in Germany so that current and future tenants can find their jobs here."
Further information can be found at the following URLs:
ANGA
GdW
BFW
Lemonbeat
Smart Living
---
You may also like