IoT Developer Survey 2018: AWS, Azure and MQTT in the lead
Posted On 23rd April 2018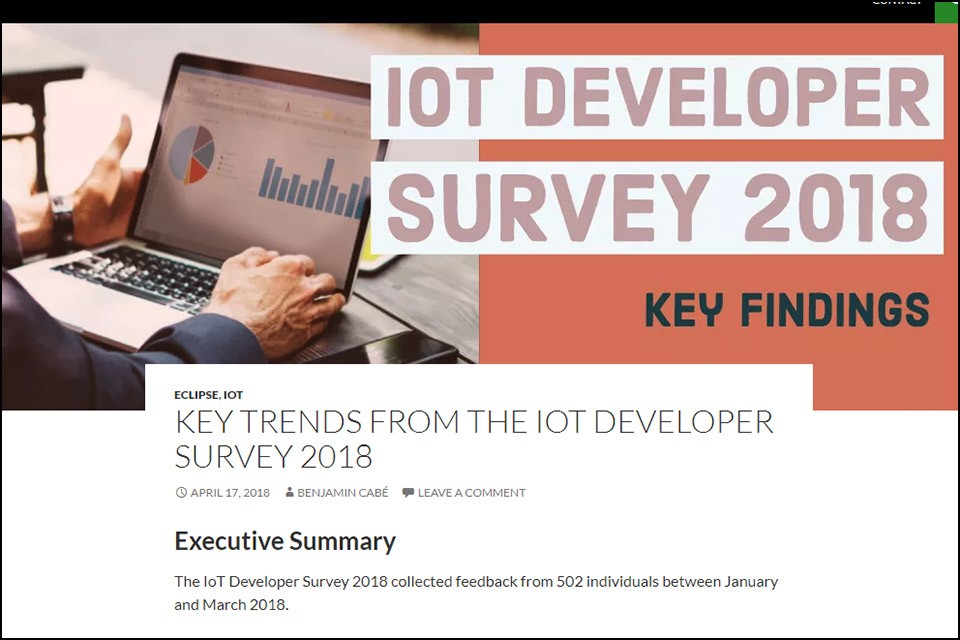 For the fourth time, the Eclipse IoT Working Group conducted the IoT Developer Survey in cooperation with the IEEE IoT Initiative, the Open Mobile Alliance and AGILE-IoT in the first quarter of this year.
The Eclipse IoT Group surveyed more than 500 developers from various companies. The aim of the IoT Developer Survey is to find out and understand with which approaches and by what means different developers realize their IoT solutions.
The key results of this year's IoT Developer Survey:
Amazon AWS and Microsoft Azure are the top 2 cloud services for IoT. The Google cloud platform is currently not in a position to assert itself on the market.
Looking at this year's results, there is a clear upward trend for Amazon AWS (51.8%, 21% more than in the previous year) and Microsoft Azure (31.21%, 17% more than in 2017). Meanwhile, the Google Cloud Platform is struggling to be accepted by IoT developers (18.8%, down 8% from last year).
MQTT (Message Queue Telemetry Transport) remains the standard of choice for IoT messaging, while AMQP /Advanced Message Queuing Protocol) is becoming increasingly popular as organizations scale their IoT implementations and back-end systems.
MQTT has been established for many years as the protocol of choice for the IoT, as confirmed by this year's survey: MQTT is used by over 62% of respondents, followed by HTTP (54.1%). With the upcoming release of MQTT 5, which will address some of the protocol's identified "limitations", MQTT may become the IoT messaging standard even more clearly in the future.
93% of the databases and data stores used for IoT are open source software. The data collected and used in IoT applications is incredibly diverse, from time series sensors to device information, protocols and log files.
It is interesting to note that IoT data is equally diverse across all industries and a variety of data is collected by today's IoT applications. 61.9% of the data collected are time series data (e.g. sensor data), but device information (60.4%) and log data (54.1%) are almost as important. No wonder, because collecting sensor data is only half of the IoT equation of operation: you must also be able to monitor and manage your devices.
Further information, analyses and the complete survey results can be found in the blog of Benjamin Cabé, an IoT Program Manager at the Eclipse Foundation.
---
You may also like