Nanosatellites for the Internet of Things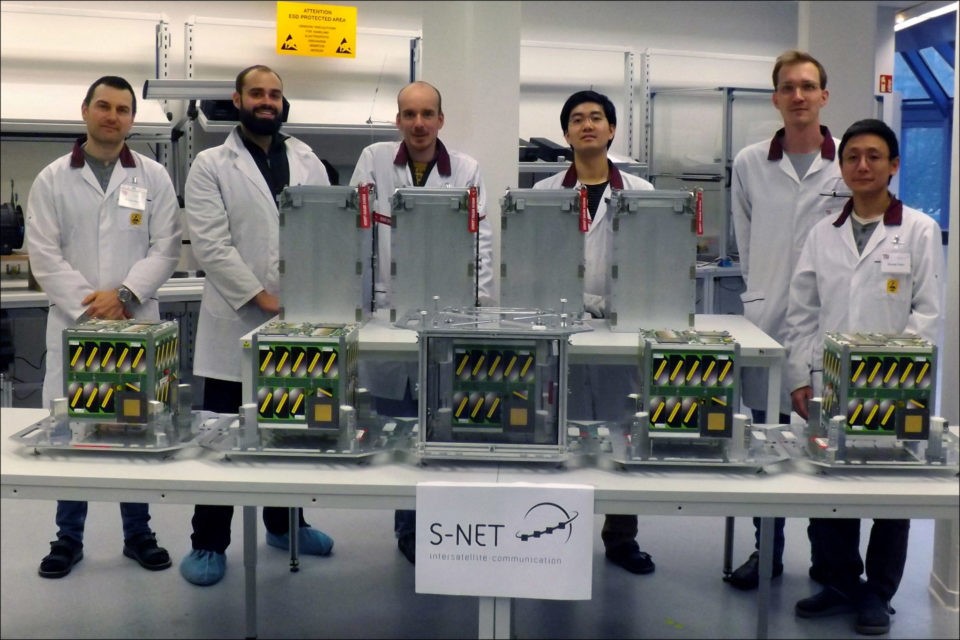 Backnang – not in Asia, actually in Baden-Württemberg and among others the seat of the German Center for Satellite Communication. The "DeSK", an association of companies, scientific institutions and universities in the field of satellite communications, has been developing nanosatellites, ultra-high-frequency communication methods and related technologies there since 2008.
On February 1, a Soyuz rocket with four DeSK nanosatellites was launched from the Russian spaceport in Vostochy. The satellites, cubes weighing only eight kilograms and with an edge length of 24 centimeters, were placed in stable orbits at an altitude of 580 kilometers every ten seconds. Since then, they have been orbiting the earth on these orbits at around 28,000 kilometres per hour. A few hours after they were launched, the satellites had successfully made radio contact with the ultra-high frequency (UHF) ground station of the DeSK in Backnang.
On the 22nd of February, the nanosatellites successfully communicated with each other for the first time – and this is also the pioneering feature of this new system. The nanosatellites are part of the DeSK's "S-Net" project. They are intended to investigate and demonstrate the theoretical and technical foundations for reliable, modern inter-satellite communication in "autonomous distributed satellite systems".
Conventional satellites usually communicate only sporadically or periodically with their remote station – in fly-over via the ground station connected to them. In order to maintain permanent contact with a satellite, a large number of ground stations would be necessary so that a satellite can always find a "contact person" for data exchange during its orbit around the earth.
The nanosatellites of S-NET, on the other hand, are also connected via radio. This means that each of the swarm satellites can access all of the network's data. Each of the satellites can exchange data with a ground station and distribute it in the connected swarm. While data exchange with conventional satellite systems often took several days, this swarm network only takes one to two hours.
The benefits of this technology could also soon become relevant in a large number of IoT-related areas. Be it in environmental and climate research, global early warning systems, disaster monitoring and management, traffic monitoring, optimization of globally networked machines and production facilities, or the operation of autonomous means of transport.
---
You may also like