Phoenix Contact and Lemonbeat: first use case in smart building automation
Posted On 10th February 2017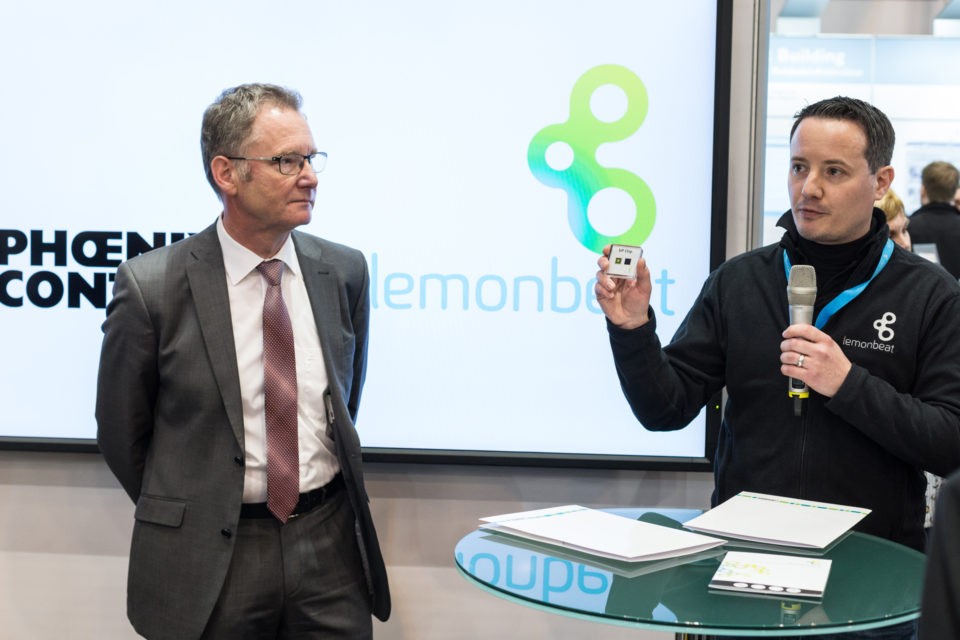 Roland Bent (l.), CTO of Phoenix Contact and Oliver van der Mond, CEO of Lemonbeat announce their cooperation at the E-World 2017 in Essen. Photo: Dennis Knake/Lemonbeat
Phoenix Contact, a leading manufacturer of electrotechnology, and Lemonbeat bundle their strength to lift building automation to the next level. During the "E-world energy & water 2017", Europe's large specialist energy trade fair, both companies announced their cooperation. Its goal: making building automation more intelligent and less complex. A first real life project is already underway.
Automation of commercial and communal real estate, be it housing estates, office or industrial buildings is a cost-intensive business. The technical investment, required in order to automatically monitor and adjust buildings, in terms of water and energy consumption, heating or air-conditioning according to the actual environmental situation, is often immense. As of now, Phoenix Contact is implementing Lemonbeat's IoT technology into their own systems to lower the technical complexity within building automation and potentially realize capital cost reductions of up to 30 percent.
With the Lemonbeat smart Device Language (LsDL) Lemonbeat has developed a communication protocol for the Internet of Things that enables devices to communicate directly with each other, independently from a central unit. Instead of putting the intelligence into a controller, a gateway or into the cloud, LsDL enables its devices within a network to communicate and act autonomously. The communication takes place either via the incumbent LAN infrastructure or via the energy-efficient Lemonbeat Radio technology within the Sub-GHz range. In the field of building automation, the Lemonbeat technology can assist in reducing amounts of control hardware necessary and therefore enable reduction of engineering and installation efforts.
Phoenix Contact is developing the IoT-based ecosystem Emalytics that combines the building services management system with energy management and business intelligence services in one solution. For this system, the automation specialist is utilizing the Lemonbeat technology. IP-based smart devices as well as devices, sensors and actuators used within conventional building controls can be directly integrated into the IoT management level. All data, regardless of its source, is available as an information object, and thus can optimize processes within building services.
Lemonbeat-Technology can assist in reducing amounts of control hardware necessary and enable reduction of engineering- and installation efforts
The first project called "AE35" will be the renovation of the historical RWE building. Its project name refers to the street adress, Altenessener Straße 35 in Essen, located in the Rhine-Ruhr metropolitan area in western Germany. After renovation, which is scheduled to finish in mid-2017, it will then become the new home for the RWE management board.
"This technology enables us to monitor all systems within this building in a very detailed manner", says Peter Stradal, Project Manager for AE35, of RWE's subsidiary innogy. "We will be able to optimize energy consumption very much efficient and demand-oriented. At the same time, the system delivers a great deal of comfort for its users."
The four-story building will be equipped with an IoT-based building management system that combines building control services with an active energy management. The IoT ecosystem Emalytics will communicate bidirectionally with Lemonbeat's self-sustaining room automation. The ecosystem will be able to visualize, monitor and regulate room automation and heating systems as well as the energy management. All data from the conventional building technology, e.g., sensor and actuator technology, will be collected along with the data of the Lemonbeat smart devices for room automation and visualized by Emalytics. Visualization will then be enabled as per floor as well as per room.
Roland Bent, CTO of Phoenix Contact, emphasized the significance of IoT in the building automation: "With this cooperation, we become a moving power in the area of digitization of building automation. Established technology will be combined with modern IoT technology. Together with Lemonbeat, we offer solutions that enable building operators to make their projects future-proof."
Click here for a picture gallery of our press event at E-World 2017 on our official flickr channel

---
You may also like