Smart shades that know when it's time to open and to close
Posted On 31st August 2016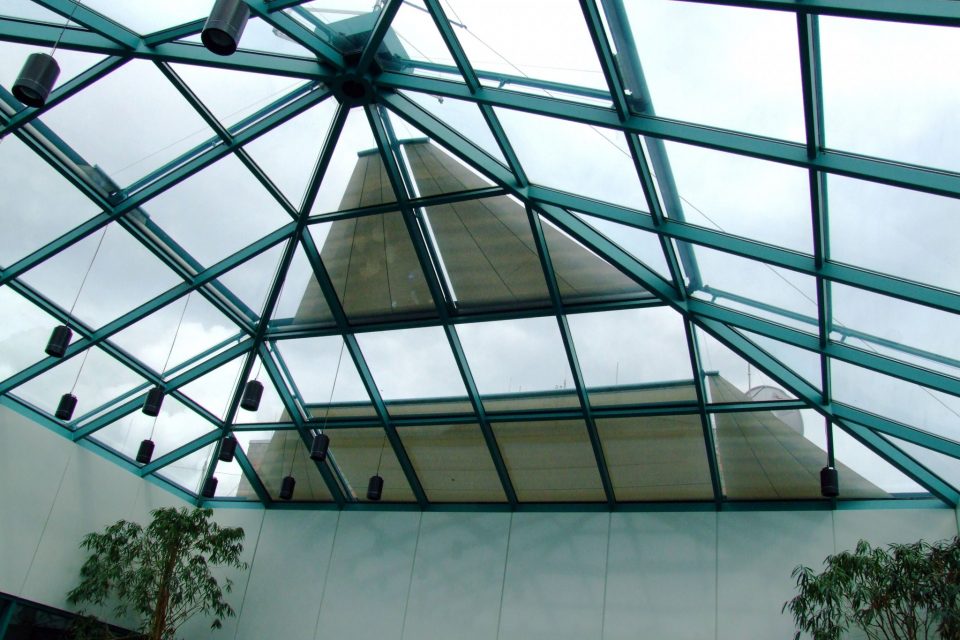 RWE Atrium with intelligent shades that open and close depending on weather, sun and temperature conditions. Photo: Manuel Adler
Imagine your window shades know when its time to open or close. And not just by day or by night, but also by the amount of light that falls into the room, by the actual inner temperature or by the overall weather situation. What sounds like a neat thing to have for your private home comes very handy in office buildings where large quantities of windows have a huge effect on the room climate.
To demonstrate their abilities in building automation, a proof of concept installation has been set up in the atrium of RWE's data centre in the town of Grevenbroich, not far from Cologne in western Germany.  Sensors measuring sun intensity, temperature, wind and other atmospheric conditions, are able to communicate directly with the shades and blinds in the atrium, without needing to be linked via a central control unit. The result is optimal light and temperature at all times. Alongside the advantages of a more comfortable climate, energy savings are also made possible.
The fully automatic regulation of the shades and blinds compliment the switch controls that were already installed in the atrium. Conventional sensors are used to measure the current light and atmospheric conditions. The sensors pass their data to a Lemonbeat module, which in turn sends everything on to the blind controls which have been kitted out with Lemonbeat technology. The modules communicate using "Lemonbeat smart Device Language" (LsDL), an XML-based scripting language designed for straight forward control of devices within an IoT-ecosystem.
IoT-Module communicates directly, without the need for a central control unit
A distinctive feature of the Lemonbeat IoT-Technology is direct communication: the modules exchange data directly between each other, without the diversion via a central control unit, and make decisions based on an easily adjustable set of rules:
In the case of strong winds, the blinds should not be able to be rolled out manually.
If the room temperature drops too dramatically, the blinds should roll back in regardless of the direction of the sun.
If a defect is detected in one of the blinds, it is automatically deactivated.
"With this first proof-of-concept we are able to demonstrate how flexible our Lemonbeat IoT technology is ", commented Dr. Norbert Verweyen, managing director of Lemonbeat GmbH. "In the area of building automation maximising efficiencies, minimal effort and low costs are key. No longer requiring a central control unit ensures significant savings on hardware and engineering effort. "
Communication methods to meet various requirements even for retrofits
Lemonbeat allows communication via any IP-protocol, for example Ethernet-LAN, WiFi or a special patented 868 Mhz radio-frequency method with a high range. In this current example the radio-frequency option was chosen as it was best suited to the retrofit required. Bert Vent, manager of Datacenter Infrastructure at RWE is impressed; "the installation was carried out without fuss within two days. The fact that we didn't have to install any more cabelling was an advantage, due to the proximity of a fire protection wall"
Further functionality can be added at any time
If further functionality is required in the future, for example additional sensors or new features for the switch e.g. long-press activates a separate function, this can be implemented through LsDL at any time.
---
You may also like