Volvo CE Zeux: autonomous IoT wheel loader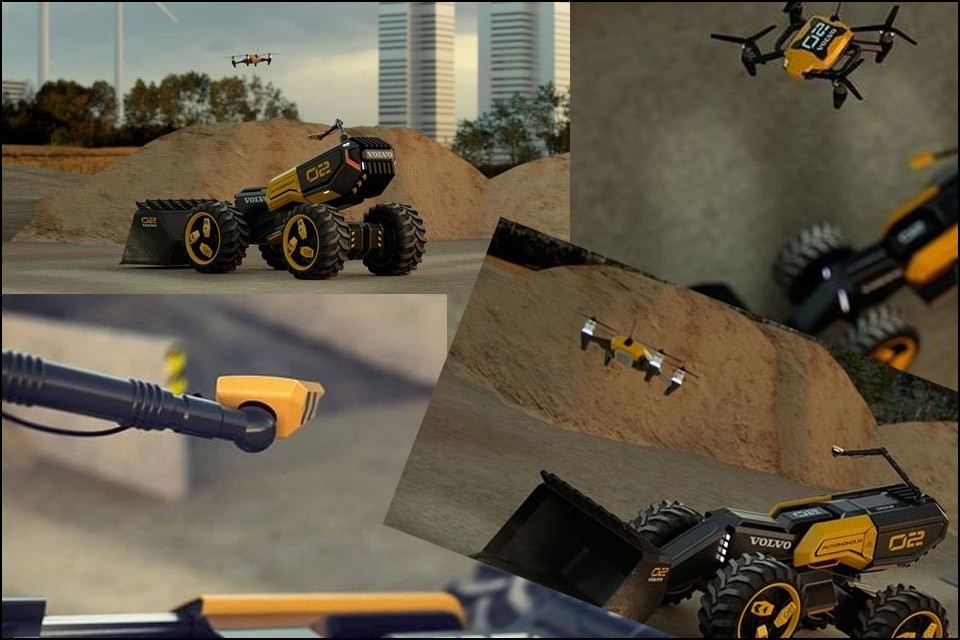 Picture: Volvo (website)
Volvo CE & LEGO Technics Zeux
In collaboration with LEGO, Volvo CE (Construction Equipment) Research developed an autonomous IoT wheel loader with drone companion – the Volvo Zeux.
Valuable support during the design and development phase of the Zeux was provided by a group of children and young people whose ideas, objections and ideas provided the engineers with numerous inspirations. With a view to early designs, drawings and models, this group gave feedback that led to the development of new, unique features.
Two main features chosen by the group were the escort and mapping drone, as well as the adjustable camera boom on the vehicle roof, called "the eye".
What began in 2016 as an informal, informal teambuilding event to inspire the design teams of Volvo CE and LEGO Technic soon developed into a fully-fledged, autonomous concept wheel loader – a construction machine of the (near?) future.
The collaboration made it possible to test ideas for innovative construction machines in terms of functionality, scale, design and interaction – and to give artificial intelligence in large construction machines a more human aspect.
The Volvo Zeux wheel loader concept thus seems a realistic next step in the development of modern construction machinery.
The fully electric construction vehicle with a total weight of 13 tons has four wheels equipped with various inclination and other sensors, each driven by its own motors. The Zeux tool, its articulated blade, also has numerous sensors and powerful electric motors. After an operating or working time of approx. three to five hours, it returns to a vehicle dock where it recharges its 150 kWh energy store using induction technology.
The implement's escort and mapping drone, wirelessly connected to the Zeux and an edge computer, maps and analyses in the airspace above the wheel loader in its area of operation.
With "the eye", the Zeux has a new and innovative feature: the eye-catching camera arm shows exactly where the "attention" of the vehicle is directed; i.e. it can establish "eye contact" with the people around it and acknowledge their presence. This is something that cannot be taken for granted in autonomous vehicles, since a person usually cannot see all sensors that enable an autonomous vehicle to detect both stationary and moving objects. The eye solves this problem and makes the interaction between man and machine as safe and intuitive as possible.
Construction site of the future
The Zeux could indeed be a "preview" of upcoming implements on construction sites – combining and demonstrating the numerous advantages that autonomous IoT implements can have to cope with corresponding tasks. If such equipment were to be used on motorway and road construction sites, for example, the period within which a construction project is to be completed could be reduced by a factor of 4+.
The noise generated during the work to be carried out will also be significantly reduced due to the electrical engineering used. Likewise, the risk for human workers using autonomous work equipment would be reduced – drones and equipment could have an accident, but in the majority of cases would probably only cause damage to property.
Problems with the use of such devices will primarily be of a social nature, because as long as there is no rethinking in politics and economy, the loss of further human jobs through the use of progressive, autonomous technologies and devices will probably lead to further increasing discontent and social unrest in a short time.
It is unclear when and whether the Volvo CE Zeux in its current form will be used on construction sites on a scale of 1:1 – but its "little brother" will be on sale as a LEGO Technic kit from August.
---
You may also like