Data flat rate for the Internet of Things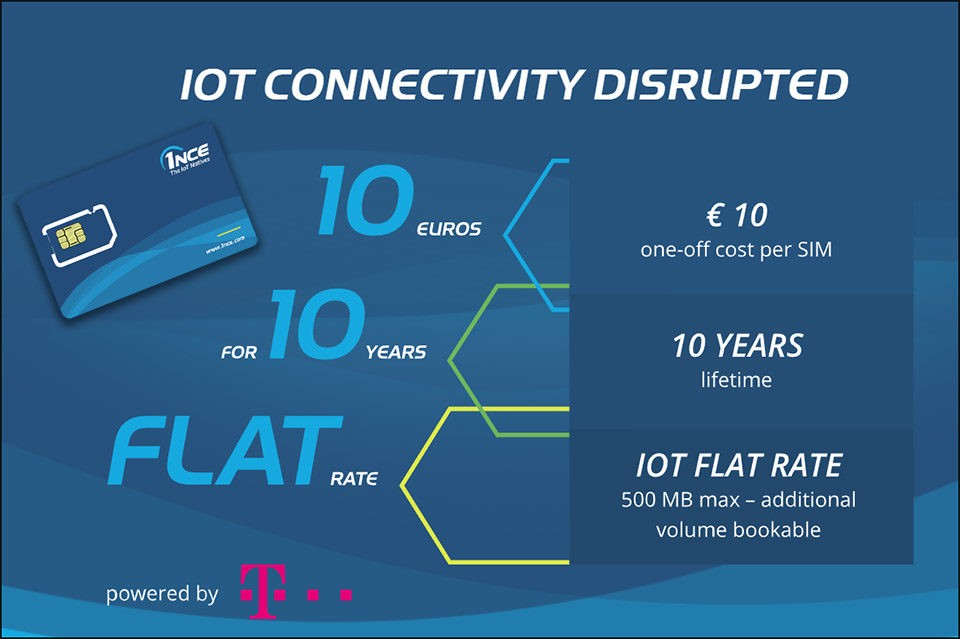 As part of the Mobile World Congress 2018 in Barcelona, Deutsche Telekom is presenting the first data flat rate offer for networked IoT devices in partnership with the Cologne-based mobile communications provider 1NCE.
Alexander P. Sator, founder and CEO of 1NCE in an interview:"With this plan, we will make it as easy as possible for our customers to implement fast new IoT solutions. That means no monthly bills, no extra charges, no tariff jungle."
1NCE – with the participation of Deutsche Telekom – develops, manufactures and distributes mobile radio-based data processing solutions and telecommunications services in the mobile communications sector. To this end, they are using Deutsche Telekom's network capacity and its narrow-band IoT technology; presented and introduced at the Mobile World Congress 2017.
Due to the low energy consumption when using the NB method, battery- or solar-powered devices and sensors that communicate in this way, which are independent of the mains power supply, can be used virtually maintenance-free for many years – the high level of penetration of the signal through buildings enables the use of appropriately equipped IoT devices even in hard-to-reach or remote locations; provided that network coverage is given. In particular, the potential for scalability of countless devices within a system is likely to be attractive for many potential customers. The security of the procedure is also ensured by end-to-end encryption.
The providers initially see customers for the data flat rate in the energy sector, transport and logistics as well as in the environment of Smart Cities for public clients. But there are also numerous interesting applications for smaller companies, start-ups and private customers. For example, in the monitoring of agricultural equipment, leasing vehicles or even bicycles.
NB-IoT is currently being used in eight countries, in addition to Germany and Austria, also in the Netherlands, Greece, Hungary, Poland, Slovakia and Croatia.
"Deutsche Telekom, as a pioneer in NB-IoT, is effectively driving forward the expansion of the network. We hope that this close cooperation will lead to faster growth in the European IoT market." Alexander P. Sator, 1NCE.
10 Euro – 10 years – 500MB
The new data flat rate offers manageable conditions – and the advantages are obvious: customers pay a one-off fee of ten euros. In return, they receive a data flat rate of up to 500 megabytes of data, valid for up to ten years. The costs of a one-time flat rate can be calculated much better than monthly settlements of varying small amounts, which would have to be booked depending on the data volume consumed or actually incurred.
---
You may also like