Samsung and Vodafone join forces in Smart Home solutions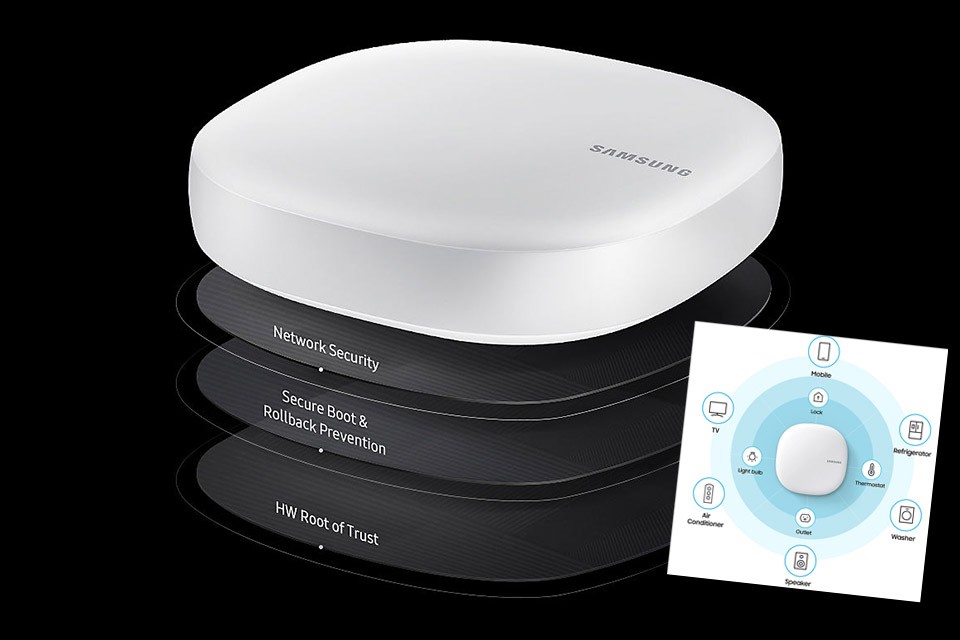 Picture: Samsung (website)
Samsung Vodafone Smart Home
Samsung and Vodafone announced the launch of joint smart home services and corresponding hardware bundles at the last Cebit in Hanover.
With this offer, the providers primarily want to address IoT beginners and private customers in order to facilitate their participation in the Internet of Things and their entry into the Smart Home.
"The currently fragmented and complex ecosystem of the Internet of Things still has too many hurdles for the consumer. […] The core of the solution is therefore an open platform that should allow users an intelligent and personalized application". Sascha Lekic (Samsung)
A first entry-level bundle for burglary protection of apartments and houses is now to be available in Vodafone shops and online. An essential component of this bundle is a Samsung Wifi hub, which is to serve as the control center for a large number of smart products from various manufacturers – and which is already in use in the USA, for example.
The radio connection to the hub of the bundle is made via Vodafone's LTE network. However, the hub can also be used via wired connections. The device with the compact dimensions of 12x12x3cm can also be used as a repeater in the home WLAN; several of these hubs can be used simultaneously.
The scope of the entry-level bundle also includes a video camera (6.5×6.5×3.5cm) with motion detection and infrared viewing. The material recorded with a resolution of up to 720p is transferred to the Vodafone cloud in encrypted form and stored there.
The bundle also includes a multi-purpose sensor that detects movement, vibration, noise and temperature changes – and can trigger follow-up actions and alarms if configured accordingly. The sensor measures 5×3.5×1.5cm and, due to its modest size, should also be able to be attached to windows and doors – for example to react to unplanned openings/movements or knocking.
To draw attention to possible burglars or other unauthorized persons entering the surveillance area of the sensor, a siren with flash light is also included in the scope of the bundle. The device warns with up to 85db loud tones and a stroboscopic light signal when triggered.
In addition, numerous other devices can be connected to the hub – provided they are compatible. Samsung names SmartTVs, speakers, refrigerators, washing machines, air conditioners and others as popular examples in addition to mobile phones and tablets.
Vodafone currently provides the following information on the costs incurred:
Customers can purchase the V-Home by Vodafone starter package at a one-time hardware price. The costs of use are covered by a fixed monthly service fee. Vodafone Germany will communicate all relevant prices in time for the start of marketing.
Whether Vodafone and Samsung will prevail over potent Smart Home competitors such as Amazon, Apple, Google or Ikea remains to be seen – but in the composition of the bundle it remains an interesting package for newcomers and people switching over.
---
You may also like